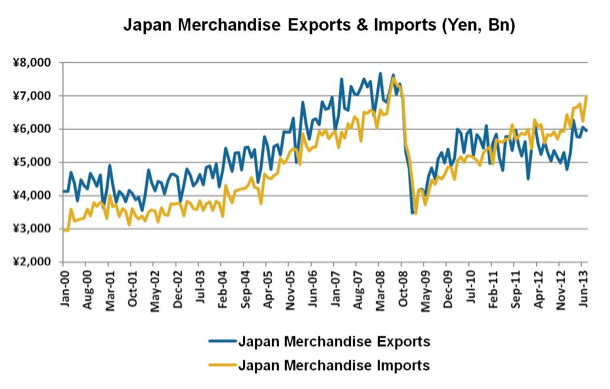 Why Japanese exports could break out of a 5-year slump in 2013
Japan's export growth
As reflected in the graph below, Japan's export growth has remained sluggish since the 2008 crisis. It has since struggled to recover to pre-crisis levels. Japanese exports are still 20% to 30% below their 2008 pre-crisis levels. However, 2013 could be the year when Japanese exports finally break out of their five-year slump.
"Abenomics" and Japan's new policy path
Since the election of Japan's new Prime Minister, Shinzo Abe, in November 2012, the yen has weakened against the U.S. dollar from the 80 level to the 100 level. Prime Minister Abe, in conjunction with Bank of Japan Governor Haruhiko Kuroda, will attempt to end the post-1990 deflationary spiral that has gripped the Japanese economy. These policies, known as "Abenomics," will attempt to encourage private investment through a more aggressive mix of monetary and fiscal policy.
Article continues below advertisement
Going forward in 2013, the Japanese data bears watching very closely. Relative to other G7 economies, Japan may be the big surprise. After more than two lost decades of deflation and slow growth since the bursting of the land bubble in 1990, Japan is embarking on a new policy path to economic growth intended to end deflation and slow economic growth. This series focuses on a variety of economic factors that should help shed light on why Japan might be different this time, and how Abenomics could be a game-changer for Japan.
Japan export growth: Is Japan breaking out of the global recession?
The post-2008 business cycle is very different than the 2000–2008 business cycle. Differing economies with differing allocations of land, labor, and capital will adapt differently to this new world of debt and deflation, and time will tell who the winners and losers will be. Governments and central banks will play key roles in managing economies amid the specter of deflation, excess capacity, unemployment, and ongoing fiscal crises. As 2013 progresses, Japan seems to be well positioned to seize new opportunities to restructure its seemingly dying economy.
Japan's economic recovery in trade and GDP growth has reflected in Japan's equity markets. The broad-based, market capitalization–weighted Topix Index has rallied 70% since the November 2012 election, while the market price–weighted Nikkei Index has rallied almost 80%.
Article continues below advertisement
As the yen has weakened significantly since the November 2012 election, investors may find the Wisdom Tree Japan Hedged (DXJ) ETF an appropriate investment vehicle that can capture the appreciation of the Japanese equity markets, while avoiding the exposure to the weakening Japanese currency. Alternatively, the iShares MSCI Japan ETF (EWJ) provides exposure to the Japanese equity markets, but it's denominated in Japanese yen and doesn't hedge out the currency risk of the yen weakening against the U.S. dollar or other currencies.
Should the yen continue to weaken, Japan may continue to outperform other regional equity markets, as reflected in the underperformance of China's iShare.
RELATED ARTICLES BY COUNTRY
CHINA

: For further analysis of how CHINA is being affected by JAPAN and "Abenomics," please see CHINA SERIES—"The Golden Age of Cheap Labor Coming to an End?"

USA

: For further analysis of how USA-related CONSUMPTION trends could impact JAPAN'S Abenomics-led recovery, please see USA SERIES, "US Consumer Spending–Sustaining the Unsustainable?"