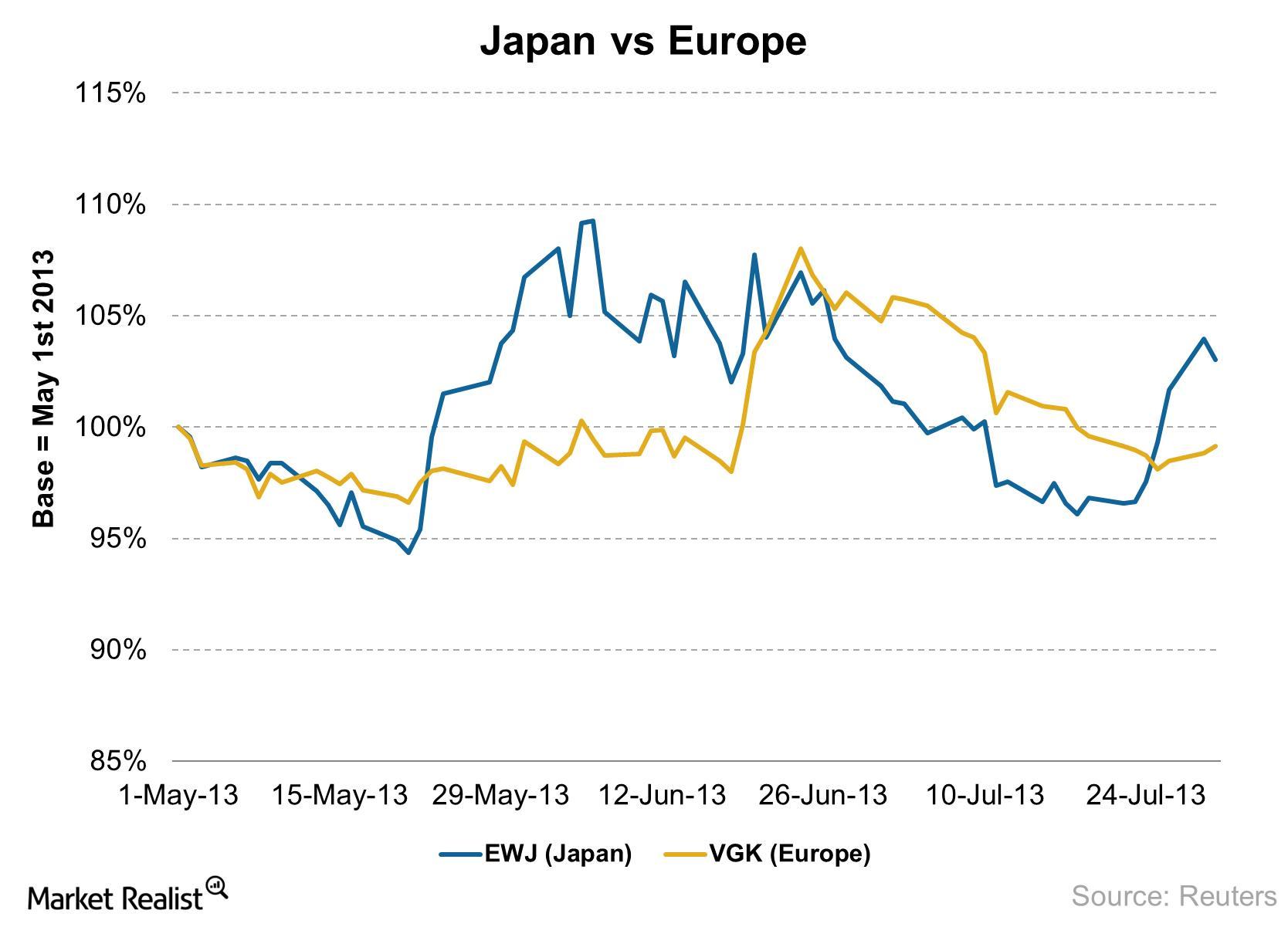 Christine Lagarde of the IMF sees a 3-speed economy (Part 1)
Christine Lagarde, the managing director for the International Monetary Fund, sees a three-speed global economy
In her speech at Brookings Institution in early June, Lagarde mentioned that the global economy has shifted this year towards a three-speed economy, versus the two-speed economy coined by PriceWaterhouseCoopers half a year ago. You can broadly categorize the three groups as follows.
Countries that are far from recovery
Countries that were hurt during the crisis but are now recovering
Emerging markets and developing countries
Countries far from recovery
The Euro area and Japan (EWJ) comprise this group.
Europe

In her speech, Lagarde recognized how far the Euro area has come. But from an investor's perspective and in plain terms, Europe is still a mess that remains in recession. Across several asset classes, investors remain skeptical about exposure to the Euro area.
Article continues below advertisement
While Europe has indeed improved, it has done so by reducing its rate of contraction, and it may at best reach neutral growth sometime next year. Germany and France are showing weakness but remain far stronger than the likes of Italy and Spain, where recession is in full bloom. Riots in Greece persist as its austerity measures continue to pressure an economically overstretched population.
While Europe has gained and averted a lot by the actions of the European Central Bank (which took a monumental collaboration among European countries), Europe still needs key policies to repair the financial sector. Several banks are plagued by toxic assets, preventing the expansion of credit lending. We've observed a similar situation in China (FXI), where the credit crunch may move it from its current group.
Japan
Japan (EWJ), on the other hand, has improved significantly—partly driven by the aggressive monetary easing conducted by its government. This move led a strong depreciation of the Japanese yen, which gave the country an immense advantage over its peers. In less than six months, the yen depreciated approximately 20%. Several Asian countries were hurt by the increased cost and price advantage Japan gained over the region since the year started.
Japan suffered a recession that lasted over a decade due to severe deflation. So this time around, Japan's Central Bank aimed at boosting inflation to above 2%. The program has proven very effective, yet its success comes at the cost of a huge government deficit, which eventually Japan will have to finance through tighter fiscal policy.
Japan's current debt-to-GDP ratio of 245% will need to come down. With the planned increase of consumption taxes from 5% to 10% in 2014–2015, the growth rate will change unless structural reforms are in place to keep the economy running and boost its productivity. A country can't maintain its edge based on a currency war.
Countries that were hurt during the crisis but are now recovering
To read about the second group Lagarde described in her "three-speed economy," see Part 2.