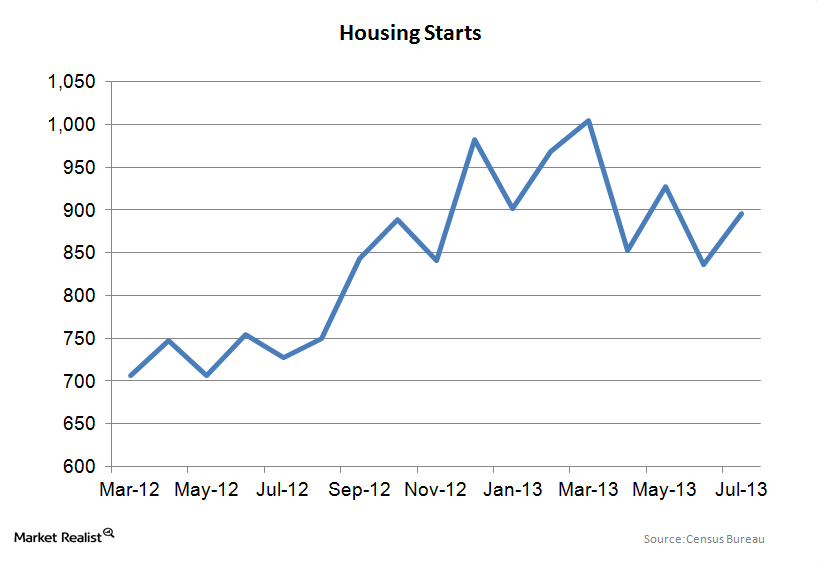 Housing starts rebound, driven by multi-family construction
By Brent Nyitray, CFA, MBA

Nov. 20 2020, Updated 3:16 p.m. ET
Housing starts are a critical predictor of future homebuilder sales
Housing starts are released jointly by the Census Bureau and the Department of Housing and Urban Development. Analysts use the information to anticipate future production for homebuilders, future demand for raw materials, and labor costs. This data will even affect the forecasts for home-related retailers, like Lowe's and Home Depot.
Article continues below advertisement
Housing starts cover the number of privately owned housing units that started in a given period. For multi-family units, each individual unit is considered a housing start. If there's a lot of multi-family construction happening, then housing starts can become elevated, and investors must take care not to read too much into the builders of single-family homes.
Multi-family construction drove the increase
Housing starts rose from an upward-revised 846,000 pace to 896,000. If you look closely at the numbers, it was all multi-family (more than five units) that drove the increase. Multi-family starts were 290,000 in July—a considerable increase from the 231,000 pace in June. Single-family starts dropped only slightly, from 604,000 to 591,000. Single-family starts have been much stabler than multi-family starts and have shown a steady rise.
Starts fell in the South, from 431,000 to 401,000, but all other geographic areas experienced increases.
Article continues below advertisement
Right now, there's a boom for rental properties, as institutional investors chase the high single-digit rental yields that are available. This is making life more difficult for young adults, who find themselves most vulnerable in the job market, struggling with student loan debt. Rental properties are competing with the likes of Blackrock (BLK) and Blackstone (BX) for starter homes.
While 896,000 is quite a jump compared to a few years ago, relative to historical numbers, it's quite low. From 1959 to 2002, housing starts averaged about 1.5 million units per year. In fact, housing starts typically bottomed at a million units during recessions. The fact that we only recently cracked the one million mark shows just how deep this housing recession was.
Implications for homebuilders
Today's report had a negligible impact on the performance of the Homebuilder ETF (XHB), which was up modestly with the market. This was undoubtedly due to the fact that multi-family homes drove the increase and not single-family homes. Homebuilders compete with rentals for new household formations, and as the supply of rental properties increases, rents should fall relative to house prices. This could negatively affect new home pricing at the margin. However, that has yet to become evident in the earnings of the homebuilders, which were generally quite strong. Only PulteGroup (PHM) and Beazer (BZH) experienced a drop in orders. Other homebuilders—like Lennar (LEN), KB Home (KBH), Standard Pacific (SPF), and Toll Brothers (TOL)—reported large increases in orders and backlog.
Right now, the difference between renting and buying is still extremely wide by historical standards. When you consider the difference between median house prices and median rents, purchasing is cheaper. Rock-bottom interest rates and low prices for starter homes are making homeownership very affordable. As the job market improves for younger adults, those who are currently renting will contemplate homeownership. The Obama Administration has been pushing banks to lend more and use FHA loans for first-time homebuyers. FHA loans require only 3.5% down, so they're perfect for the first-time homebuyer. This move from renting to purchasing will help homebuilders in the long term.