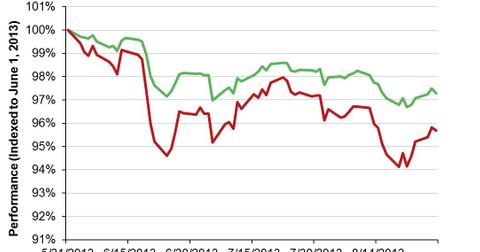 Corporate bonds wrap up shy week ahead of FOMC
By Dale A. Norton

Nov. 21 2019, Updated 8:02 p.m. ET
The corporate bond market continues to be affected by tapering speculation
The investment grade bond market slowed down due to the release of the FOMC (Federal Open Market Committee) meeting minutes, which were bound to cause increased volatility in rates and investor appetite. Given this development, not many issuers were expected to come to market last week. However, volumes and flows were even lower than expected.
Volumes slow down
Article continues below advertisement
Only nine bonds priced last week, with most of the deals coming from the financial and utilities sector. Five of the nine deals were FIG-related transactions, and three others were from utilities. Financial issuers are frequent issuers, and utilities are safe long-term issuers, so it makes sense that in a week in which volatility could be significant, issuance was dominated by these two.
Total volume amounted to $4.5 billion—just below the $5.0 billion expectation. Of this total, $3 billion came from financials and $1.3 came from utilities. This was the slowest week in August, which currently stands just above $50 billion in total issuance. The current week is likely to be even lower due to the upcoming Labor Day weekend, for which less than $2 billion is expected to price.
Flows slow to a drip
Fund flows into investment grade bond mutual funds remained barely positive, with $111 million in inflows. Year-to-date inflows have accumulated $43 billion. Given the uncertainty but imminence of tapering, investors have significantly pulled back on their exposure to fixed income instruments. This trend is likely to continue as the September FOMC meeting approaches.