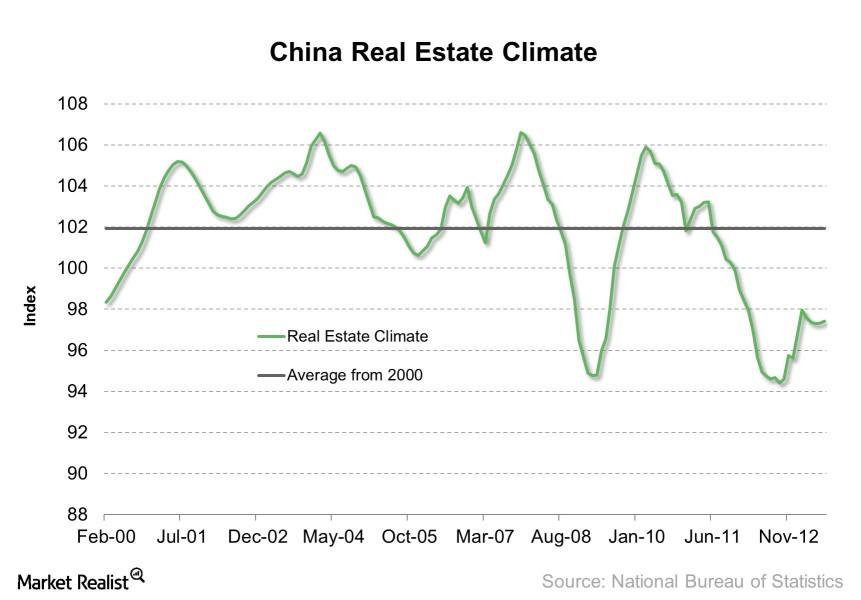 Below-average Real Estate Climate Index is positive for shipping
By Xun Yao Chen

Nov. 20 2020, Updated 5:20 p.m. ET
The significance of the real estate climate index
The last indicator that investors could use to get an understanding of the real estate situation in China is the Real Estate Climate Index. The National Bureau of Statistics developed this index to capture the trends and situation in the property market using eight indicators related to land, capital, and sales. When the real estate climate rises, analysts generally consider it positive for shipping rates, whereas falling figures point to a possible negative.
Real estate climate rises in July
Article continues below advertisement
In July 2013, China's real estate climate edged up slightly from 97.29 in June to 97.39—the highest level we've seen since March. Unlike the previous indicators we mentioned in Part 1 and Part 2, this index doesn't comprise monthly averages over the past few months. Figures above 100 show prosperity or economic growth, whereas figures below 100 mark depression.
Recovering from short-term pause
Lower figures have followed the implementation of property tightening measures, as the government raised concerns with prices that were rising too fast in February. These measures include restricting loans to real estate developers and individual buyers, as well as imposing taxes on home sales. As a result, the real estate climate index has been falling for the past few months.
Long-term cycles point to a higher climate
From a historical perspective, the index has averaged around 102. Since China's real estate activity is below that level and has turned around since mid-2012, the government is unlikely to tighten activity in the market by much. Otherwise, it could negatively affect economic growth and employment, which could  lead to social unrest. This means that from a long-term perspective, China's real estate market should experience continuous growth.
Positive outlook for iron ore demand and shipping rates
Higher real estate activity will translate to higher iron ore demand, which will drive shipping rates. As shipping rates are key drivers of fundamental performances for shipping firms, the share prices of companies that haul iron ore and coal over the ocean—like DryShips Inc. (DRYS), Diana Shipping Inc. (DSX), Knightsbridge Tankers Ltd. (VLCCF), Navios Maritime Partners LP (NMM), and Eagle Bulk Shipping Inc. (EGLE)—will benefit.
To see other key drivers that affect the marine shipping industry, visit our driver page, Marine Shipping.