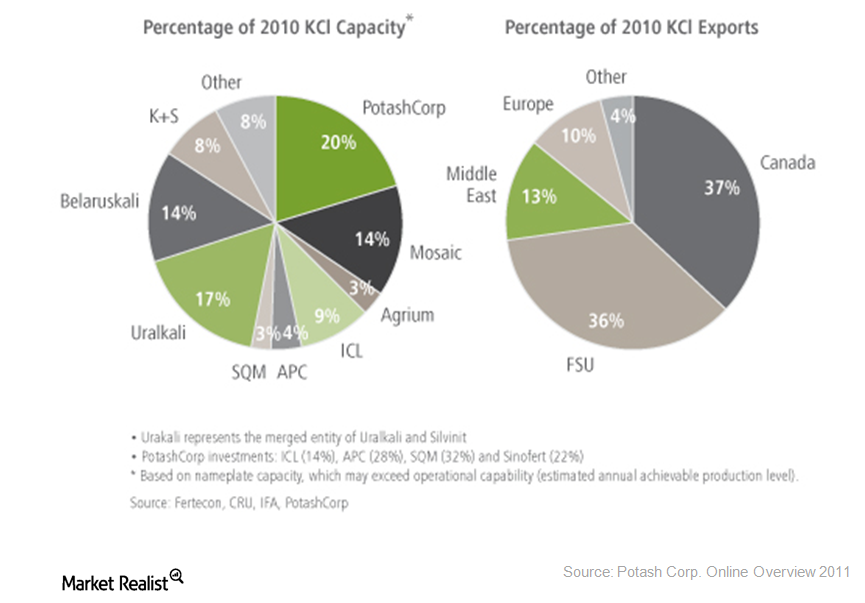 Why potash stocks around the world crash as Uralkali leaves Belarus Potash Company
By Xun Yao Chen

Nov. 20 2020, Updated 5:24 p.m. ET
Industry concentration
Industry concentration is a factor that affects competition. When only a few firms occupy a large portion of the industry's revenue, competition tends to be less, as companies try to live with each other to maintain profits. On the other hand, when there are a large number of firms vying for market share, competition is often fierce and price wars are more common.
Uralkali breaks off
Article continues below advertisement
On July 30, Uralkali, one of the largest potash producers, announced its decision to break out of a joint-venture from Belarus Potash Company (BPC) to sell potash to the global market. Until recently, Canpotex (a joint-venture between Potash Corp., Mosaic Co., and Agrium Inc.) and the Belarus Potash Company (a joint-venture between Uralkali and Belaruskali) had occupied ~70% of global trade of potash (add FSU and Canada together in the chart above). The duopoly has given potash producers much power to sell their products at higher prices than what prices would be in a much competitive market.
The break-up will intensify competition as Uralkali focuses more on its own company's performance than it would for the entire industry. Uralkali said that the decision to quit BPC will likely push global potash prices to below $300 per tonne in the second half of 2013, from the current $400, as the company intends to boost sales to retain its dividend policy. The company also provided plans to export more than 2.5 million tonnes to China this year, from 2 million in 2012.
Effect on stocks
Article continues below advertisement
For the industry as a whole, lower prices mean lower profitability and earnings. As a result, share prices of potash producers such as Mosaic Co. (MOS), Potash Corp. (POT), and Intrepid Potash Inc. (IPI) have all plummeted by more than ~20% on the announcement. Of course, this would also hurt Uralkali, which said that it decided to pull out because Belaruskali was selling fertilizers outside the partnership. This just shows how working together is much more difficult when there are many more firms in the industry, and that investors should diversify investments across several industries. The VanEck Vectors Agribusiness ETF (MOO) is one option investors can use for diversification, because it invests in different businesses within agriculture.
Outlook 
On the day of the announcement, short-selling or total trading of potash stocks halted in the global market. The market could have priced in the news partially or fully, or it could have overreacted. Regardless, technical indicators, risks, and uncertainties will likely dominate share price actions throughout the medium term. One thing's for sure: share prices of potash stocks will stay below yesterday's for a while. On a positive note, companies will likely cut capacity expansion plans on the back of lower potash prices, which will be a positive driver for the industry sometime down the road.
Market Realist publishes key indicators that reflect the fundamentals of the potash industry under Agriculture.