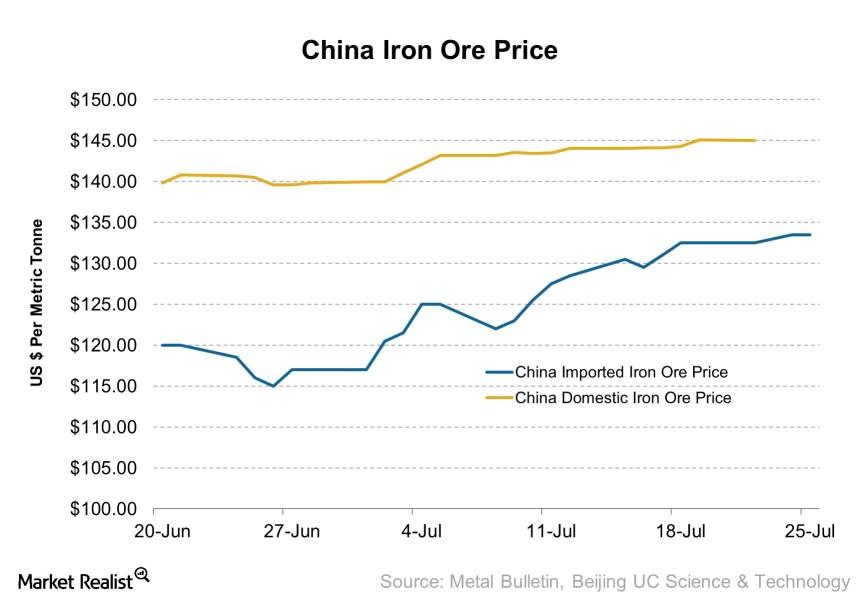 Why iron ore prices rising to two-month high is positive for dry bulk shippers
Commodity prices and shipping
Commodity prices are leading indicators of an economic cycle. Because suppliers of raw materials require time to ramp up production, an increase in demand during an economic expansion will often lead to higher prices. As a result, commodity prices correlate highly with shipping.
Iron ore prices
On July 25, the price of imported iron ore at major Chinese ports rose higher from a week ago, from $132.50 to $133.50 per metric tonne. Westpac's economist, Justin Smirk, notes that the surge we've seen came from a much weaker than usual increase in Chinese iron ore production, rather than an increase in demand. In April and May, lower iron ore prices encouraged importers to ship more iron ore, which led to an increase in iron ore inventory. In June, when iron ore prices were at their lowest and began to rise, China's iron ore imports actually fell, while shipping rates rose. Perhaps the increase in iron ore prices we've seen was more driven by optimism, while shipping rates rose mainly due to lower supply growth (see this week's update)
Article continues below advertisement
Iron ore prices bottomed in mid 2012, as the central bank of China announced $157 billion worth of stimulus to energize its falling economy. Although iron ore prices rose following the announcement, investors knew more economic stimulus was coming. They learned this from following the news that China's local governments were actively announcing programs to support their region's falling business activity over the summer. While the central bank's announcement drove iron ore prices higher, as well as stocks, prices have come down since, as the government moved to cool the property market that had been growing at ~20% year-over-year, measured in price per square foot.
Near-term and long-term implication
The fact that iron ore continues to trade above $100 per metric tonne suggests traders continue to expect that China will be able to prevent a financial crisis, and that the country's real estate sector should continue to expand over the long term. This has been positive and will be a long-term positive for shipping companies such as DryShips Inc. (DRYS), Diana Shipping Inc. (DSX), Knightsbridge Tankers Ltd. (VLCCF), Navios Maritime Partners LP (NMM), and Eagle Bulk Shipping Inc. (EGLE). In the near term, however, an increase of ~16% in prices—which makes imported iron ore less attractive to domestic iron ores—may cover some import upsides. But if prices fall, iron ore imports should increase.
Learn more about indicators that drive the dry bulk shipping industry
To read why iron ore prices will likely remain low and how this will affect dry bulk shipping companies, continue to Downward sloping iron ore forward curve suggests higher dry bulk shipments ahead. To see other key drivers that affect the marine shipping industry, visit our driver page, Marine Shipping.