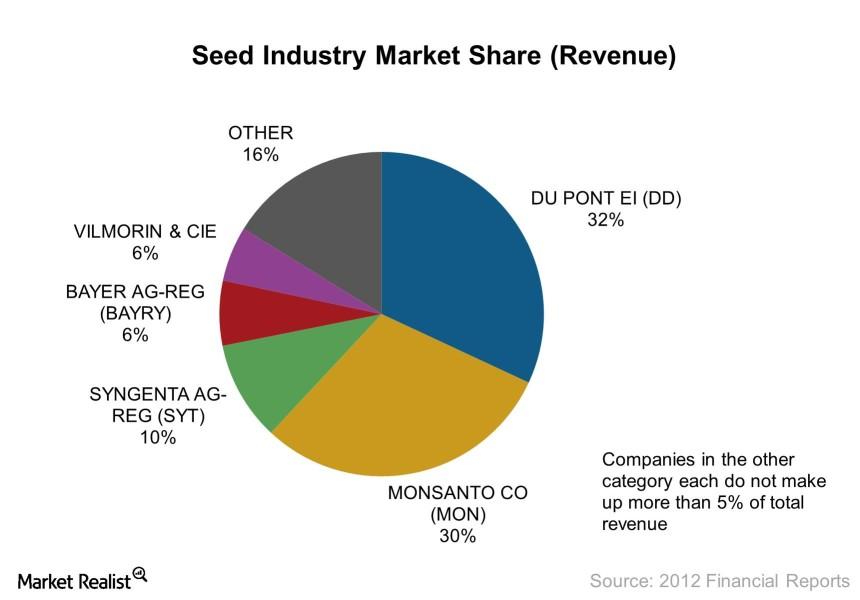 Why investing in seed is different than investing in fertilizer (Part 2)
By Xun Yao Chen

Nov. 20 2020, Updated 11:15 a.m. ET
Continued from Part 1
Monsanto and DuPont
Two industry giants dominate the seed industry, Monsanto Co. (MON) and DuPont (DD), which together held ~62% of the industry's revenue in 2012. Why are these two companies dominant players in the industry? Let's explore.
Patent protection
One big differentiator between seed and fertilizer stocks is patentability. Companies such as Monsanto (MON) and DuPont (DD) aren't selling ordinary seeds that grow naturally in the world —they're genetically modified to be more resilient to pests, weather, and diseases. Because they don't occur naturally, the company can protect them with patents in the United States.[1. Patents are enforced as an incentive for technological development.] This allows these companies to enjoy a period of non-competition to make money back from the capital spent on R&D (research and development).
First mover advantage
Article continues below advertisement
Naturally, the first couple of companies to establish a stronghold in the industry will have a first mover advantage. Companies whose products are protected by patents can plow the large profits back into more R&D. Then, companies tend to build upon or around their existing patents for two reasons. First, this practice creates a barrier around their profitable patents, which reduces the risk of infringing competitors' patents while strengthening the company's own. Second, it's less costly and time-consuming for researchers to further work on an existing technology that they've developed rather than starting from something totally new. This will give them a higher success rate of developing more patentable intellectual properties, which further reduces competition in the future.
Financial strength: R&D and marketing
As they earn more profits, these companies that have a first mover advantage will also exert financial strength. With the two large companies, Monsanto (MON) and DuPont (DD), each spending ~$1 billion and above in R&D every year, smaller firms have little chance of survival before farmers embrace their products. That spending is equivalent to more than ~25 private jets or ~2,000,000 iPads a year.
Plus, it's important to understand that farmers may be skeptical about the benefits of genetically modified seeds. So Monsanto and DuPont also spend an additional ~$2 billion-plus each year in marketing to convince these farmers their seeds will benefit them. Well, you have 50 more private jets there.
Raw materials
Continue on to Part 3