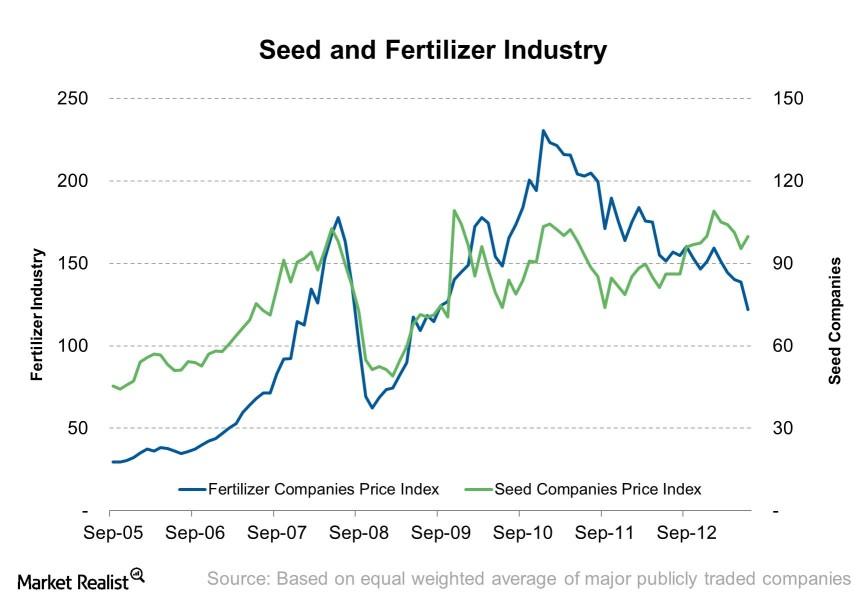 Why investing in seed is different than investing in fertilizer (Part 1)
By Xun Yao Chen

Nov. 20 2020, Updated 11:57 a.m. ET
Investing in fertilizers and seed stocks
Fertilizer and seed stocks are both part of the agriculture industry. As they highly correlate with each other, investors tend to think investing in one is like investing in the other. From September 2005 to mid-2012, the correlation between the two industries, using major companies' share prices, was 0.86.[1. Correlation ranges from -1 through 0 to 1. Numbers closer to 0 point to a weak linear relationship, while numbers closer to 1 point to a stronger relationship. Negative numbers represent a negative relationship.] When farmers purchase more seeds in a given year, investors can expect fertilizer demand to increase. However, lately, we've seen the two industries decouple from each other. Although seed companies like Monsanto Co. (MON) continued to march higher since mid-2011, fertilizer companies such as Potash Corp. (POT), Mosaic (MOS), CF Industries Holdings Inc. (CF), and Agrium, Inc. (AGU) have fallen overall. Why?
Competition: The major difference
Article continues below advertisement
In this article, we'll explain a key concept that investors often overlook: competition. Like two tiger clubs sparring with each other to learn how to fight and survive in nature, benign competition is a catalyst for progression and development. Fierce competition, on the other hand (comparable to war), will only harm both parties. What applies to nature also applies to firms. Firms that face benign competition tend to experience a favorable environment for above-average returns, while firms facing fierce competition tend to see low investment returns. When competition intensifies, companies' profits tend to fall. When competition lessens, profits tend to rise.
Here are the factors we'll explore in this series.
Accessibility to resource (Part 3)
Capital expenditures and start-up time (Part 4 & 5)
Capacity utilization (Part 6)Customer purchase behavior (Part 6)
Capacity utilization (Part 6)Customer purchase behavior (Part 6)
Let's begin with the seed industry
Continue to Part 2