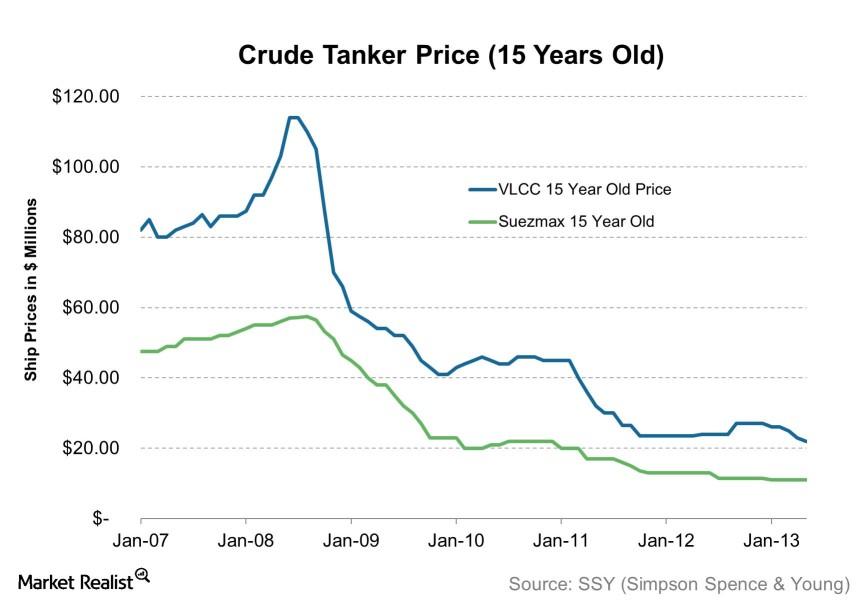 Why 15-year ship prices point to negative outlook for tanker stocks and earnings
Why ship prices (value) matter
Ship prices (values) are often good indicators of financial health in the shipping industry. When shipping demand grows more than the supply of ships, shipping companies place additional orders of ships, which drives up purchase prices. Additionally, when firms are able to charge higher prices for transporting goods across the ocean, profitability rises, and so does the value of ships. However, when ship prices (values) fall, the decline often portrays a negative outlook for the industry.
Ship prices continue to fall
Article continues below advertisement
During May, the average price of 15-year-old VLCC carriers (the largest class of tanker size) stood at $22 million, and those of Suezmax (the second largest) stood at $11 million, according to Simpson Spence & Young, the world's largest independent shipbroking group. On a month-to-month basis, prices for VLCC carriers fell $1 million, and those of Suezmax stayed flat. Although there was a slight uptick last summer, the long-term trend of tanker prices remains down because of the high supply growth of ships and low demand growth for oil transportation since 2008. Supply has grown at an alarming rate of over 5% over the past few years, because before 2008, managers believed global oil trade would continue to grow at a record pace, so they placed large amounts of new ship orders before the financial crisis.
Although the end of the financial crisis led to a medium-term recovery in oil demand, "hydraulic fracturing" and "horizontal drilling" have made it possible for oil companies to extract oil from locations in the United States, the world's largest importer, that were once considered impossible and uneconomical. While these practices of U.S. oil extraction began before the financial crisis, most sites were still in the experimental stage, so U.S. crude production remained constant before 2008. But when more and more experiments became successful, several oil companies piled in on the U.S. energy boom (see Oil rig activity stays high, negative for oil shipping). As a result, oil imports fell.
Tanker recovery to lag
Article continues below advertisement
Because companies can purchase and sell 15-year-old vessels in the market right away, the indicator applies most to short- to medium-term fundamentals. Despite all the hype of a shipping recovery, the tanker industry may lag as shipping rates remain depressed (see Shipping rates for tankers continue to fall, negative for earnings). This would be negative for tanker companies such as Teekay Corp. (TK), Tsakos Energy Navigation Ltd. (TNP), Ship Finance International Ltd. (SFL), Teekay Tankers Ltd. (TNK), Nordic American Tankers Ltd. (NAT), and Frontline Ltd. (FRO), as well as the Guggenheim Shipping ETF (SEA).
Since several dry bulk companies have used ships as collateral to fund additional ship purchases in the past, lower ship values will also increase the risk of violating loan covenants.[1. Loan covenants are activities that borrowers have agreed to carry out or not to carry out as part of the condition of receiving the loan. A violation of the loan (such as when the underlying value of a ship used to borrow more funds falls below a certain level) may give the creditor the right to ask for an early termination of a loan, which can lead to some serious financial problems for the borrower.] While managers are returning to order more ships (see Why shipping construction remains negative while ship orders for tankers rise), a positive sign of future supply and demand balance, investors may have to wait a long time before we see a strong recovery.
To see other key drivers that affect the marine shipping industry, visit our driver page, Marine Shipping. For other industries currently available, see our Home Page.