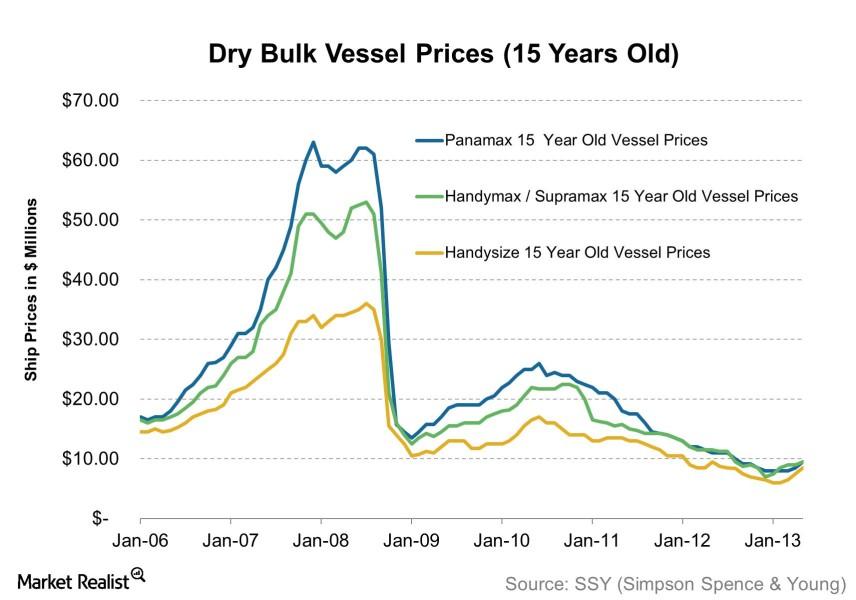 Ship prices rise to 8-month high, supporting dry bulk shipping recovery
By Xun Yao Chen

Nov. 20 2020, Updated 1:27 p.m. ET
Why should you watch ship purchase prices?
Purchase prices for ships are often good indicators of financial health in the shipping industry. When shipping demand grows more than the supply of ships, shipping companies place additional orders, which drives up purchase prices. Additionally, when firms are able to charge higher prices for transporting goods across the ocean, profitability rises, and so does the value of ships.
Panamax stabilizing, Handymax/Supramax rising
During May, the average vessel prices for 15-year-old Panamax, Handymax/Supramax, and Handysize ships rose to an eight-month high.
Panamax: $8.5 million to $9.5 million (11.8% increase)
Handymax/Supramax: $9 million to $9.5 million (5.6% increase)
Handysize: $7.5 million to $8.5 million (13% increase)
Vessel prices (values) have been rising since the beginning of the year, as several companies such as Diana Shipping Inc. (DSX) have begun taking advantage of depressed price levels to purchase more ships in anticipation of a recovery in shipping rates in the near future.
Fifteen-year-old vessel prices mirror shipping rates
Article continues below advertisement
Ship prices (values) peaked in mid-2010 as supply growth started to outpace demand growth, driven by deliveries of a record number of ship orders placed before the financial crisis and lower year-over-year growth in dry bulk trade. As more fleets went unused, competition grew among firms, which pressured shipping rates and the overall profitability of shipping firms. Because companies can sell and purchase 15-year-old ships in the market right away—unlike new builds, which can take up to two years to construct—price movements in 15-year-old ships reflect nearer-term fundamentals than what analysts can tell by looking at new build prices.
Analysts expect shipping rates to rise from their current depressed level
The recent rise in vessel price is another positive indicator of future supply and demand balance, which analysts expect to tighten. This would be positive for dry bulk companies such as DryShips Inc. (DRYS), Diana Shipping Inc. (DSX), Eagle Bulk Shipping Inc. (EGLE), Safe Bulkers Inc. (SB), and Navios Maritime Partnerships LP (NMM) over the medium to long term, because it suggests shipping rates will rise. Since several dry bulk companies have used ships as collateral to fund additional ship purchases in the past, higher ship values will also reduce the risk of violating loan covenants.[1. Loan covenants are activities that borrowers have agreed to carry out or not to carry out as part of the condition of receiving the loan. A violation of the loan (such as when the underlying value of a ship used to borrow more funds falls below a certain level) may give the creditor the right to ask for an early termination of a loan, which can lead to some serious financial problems for the borrower.]
Investors should review other driver analysis, including drivers in the article, to get a better understanding of the drivers that are currently affecting the dry bulk shipping industry. Some must-reads include As earnings dates near, which shipping company's future outlook is unfavorable?, Low inflation supports availability of monetary stimulus, positive for shipping stocks, China's interbank lending rate falls below 6.0%, positive for dry bulk shipping?, Managers continue to order ships, long-term supply and demand balance favorable, and Soaring housing prices are actually positive for China's real estate and dry bulk stocks.
To see other key drivers that affect the marine shipping industry, visit our driver page, Marine Shipping. For other industries currently available, see our Home Page.