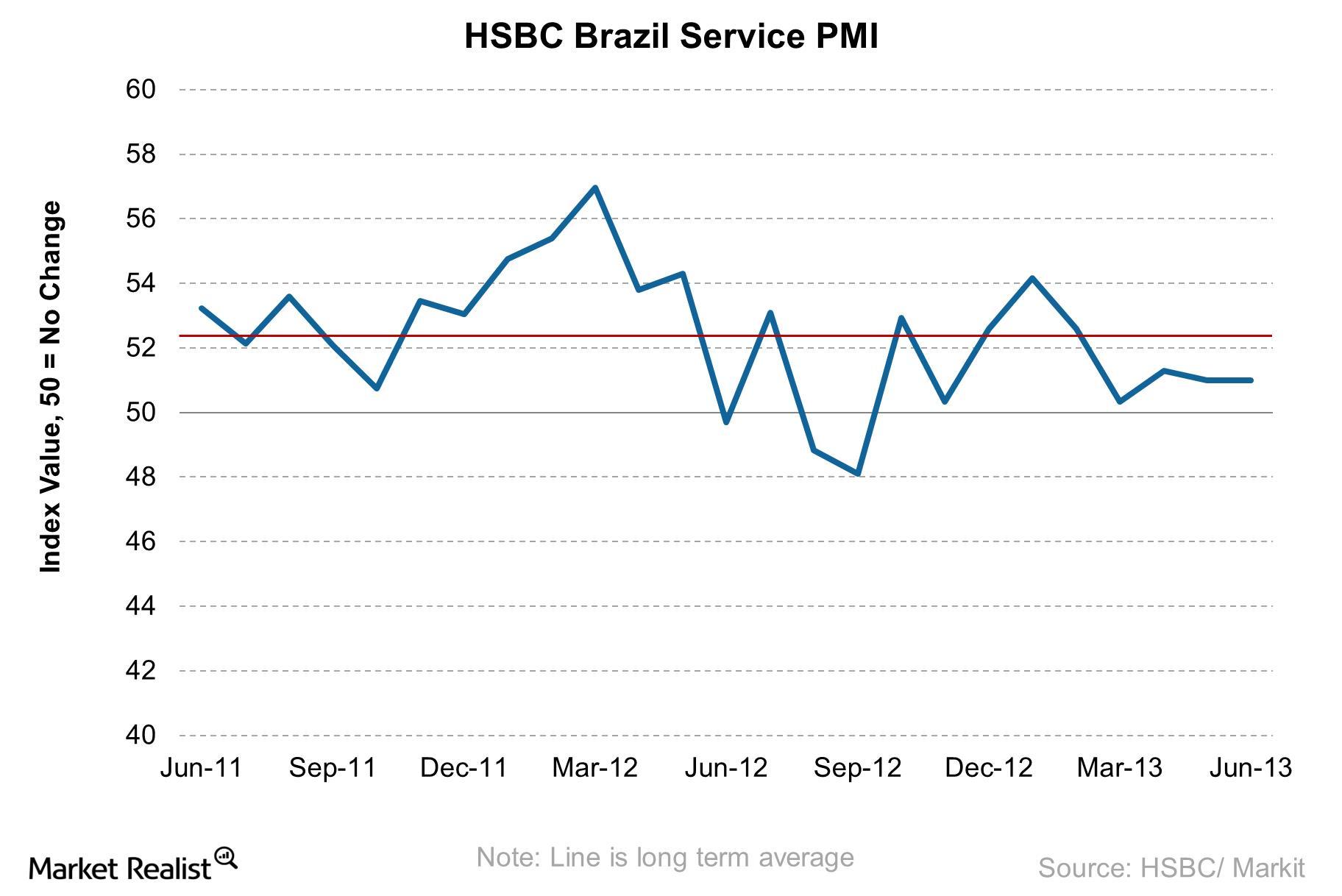 Why the services sector in Brazil continues to expand, but slowly
By Dale A. Norton

Nov. 20 2020, Updated 12:26 p.m. ET
The HSBC Services PMI for June was flat versus May
The HSBC Services PMI is the complementary survey to the Manufacturing PMI survey. Both surveys together give a holistic view of the market conditions and the expectations of near-term growth. The indices included in the PMI cover various aspects of the logistics chain, letting investors examine demand at different stages.
The June numbers remained in positive growth territory, as shown by the 51.1 score for June—relatively unchanged from the 51.2 score in May. The growth remained sluggish nonetheless, and there's no sign of recovery.
The Business Activity index was also unchanged last month
The Business Activity index (the key index for the Services PMI) remained unchanged as well, at 51.0. While Transport and Storage reported the fastest growth, the expansion was evenly mediocre across most of the sectors surveyed. Andres Loes, HSBC's chief economist in Brazil, stated:
Article continues below advertisement
"The HSBC Services Business Activity Index ended June unchanged relative to May at 51.0, indicating that economic activity in the service sector expanded at a very sluggish pace for the fourth month in a row. Except for 3Q2012, services firms recorded the weakest quarterly expansion in economic activity since 2Q2009, when a contraction was signalled. In short, the latest indicators suggest a very weak growth for the second quarter of the year."
The minimal growth, though, allowed companies to continue expanding their staff to service the higher volumes of new work. Again, keep in mind that the increase is very limited. The backlogs of work decreased marginally, implying some slack in capacity.
Inflation remains a key concern despite the aggressive interest rate hikes the Central Bank has implemented. Both input and output prices accelerated to a three-month high.
Despite the slow growth, the service providers showed an improvement in the business outlook, which was the strongest since October. Many panelists anticipate improving economic conditions, partially led by the increased activity due to the soccer World Cup.
Misplaced optimism?
Overall, it's true that Brazilian services aren't in recession, as they keep expanding, but the growth is so slow that the survey respondents' optimism almost seems misplaced, to avoid using more judgmental words…
Investors in iShares main Brazil ETF (EWZ) as well as its broader emerging markets ETF (EEM) and Vanguard's version (VWO) should keep in mind that growth will be slow to recover. Currently, too many negative dynamics are in play. See our article on why the Brazilian market is down.