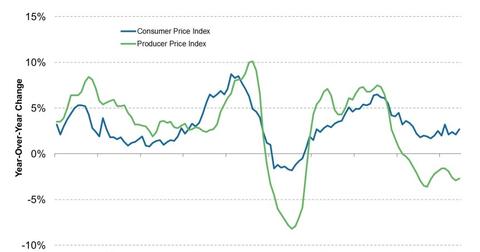 Must-know: Commodity prices and dry bulk shipping stocks (Part 1: Inflation and steel)
By Xun Yao Chen

Updated
Inflation, the economy, and shipping
Commodity prices often rise when growth in demand exceeds growth in supply. This generally happens during the recovery or expansionary stage of an economic cycle, because producers are often unable to keep up with the rapid increase in orders. So inflation is often a positive indicator of economic health, which is positive for shipping companies that highly correlate with economic activity.
Inflation and producer price index
Article continues below advertisement
But commodity prices have been falling across the board lately, as China's economic growth appears to be slowing. As demand remains weak and recovery gradual, inflation is nowhere in sight. China's recent producer price index (which tracks the wholesale prices that manufacturers or miners receive), for example, continues to fall year-over-year.
Steel prices
The steel manufacturing industry—which is often seen as the bellwether of China's real estate sector's health and which mimics the country's economic growth—also saw the effect of weaker economic growth pressuring its sales price. The spot price of the average hot-rolled steel sold in China has fallen from ~4,100 renminbi per metric tonne in January to ~3,436 renminbi in May, which represents a decline of ~16.9%.
Learn more about commodity prices and shipping
To learn more about commodity prices and their significance on dry bulk shipping, continue to Must-know: Commodity prices and dry bulk shipping stocks (Part 2: Iron and coal).