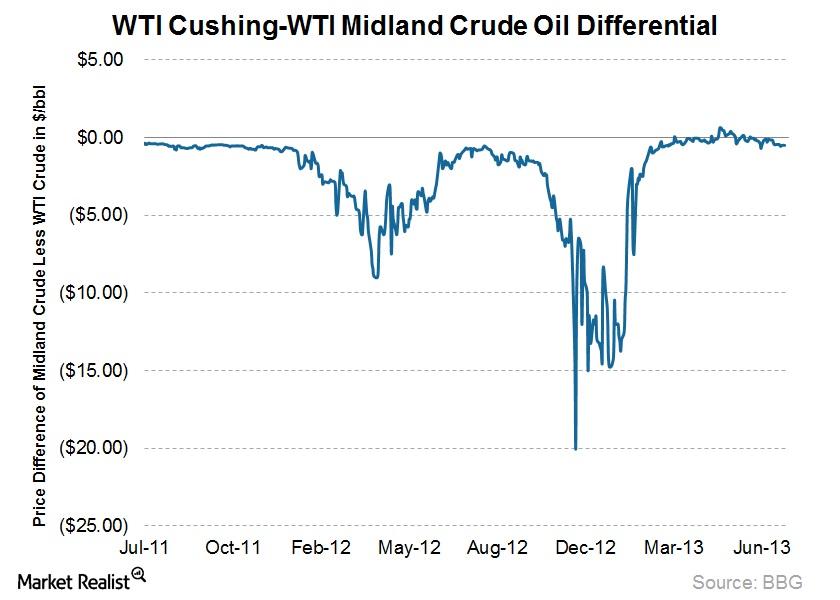 More midstream oil and gas options in the Permian Basin have kept spreads tight
By Ingrid Pan

Aug. 18 2020, Updated 5:16 a.m. ET
Permian producers realize prices closer to WTI Midland rather than WTI Cushing
Oil and gas producers in the Permian Basin in West Texas suffer when the price of WTI (West Texas Intermediate) crude priced in Midland, Texas (WTI Midland), decreases relative to the domestic benchmark crude of WTI priced at Cushing, Oklahoma (WTI Cushing). Note that investors generally accept WTI Cushing as the U.S. benchmark for crude prices, as it's a major storage and transportation hub for oil.
Article continues below advertisement
Permian producers suffer when WTI Midland crude decreases relative to WTI Cushing crude because the price they realize on their oil is generally closer to the Midland crude price, and when Midland crude prices decrease, they receive less revenue from the oil they produce. Some companies that this trend affects include Range Resources (RRC), Laredo Petroleum (LPI), Concho Resources (CXO), and EOG Resources (EOG).
Spread has blown out and since closed in, remaining relatively unchanged last week
WTI Midland crude traded as much as $14 per barrel under WTI Cushing crude at the beginning of this year, but narrowed throughout 1Q13. However, over the course of this year, the spread closed in, and Midland has even traded above Cushing at points. Additionally, since February, the spread has been much less volatile and has remained within $1.00 per barrel.
Last week, on July 12, WTI Midland closed $0.50 per barrel under WTI Cushing, compared to $0.45 per barrel under a week prior.
Disruptions in takeaway capacity could cause spreads to blow out again
Article continues below advertisement
Midland crude had historically traded in line with WTI, as shown in the graph above. However, over the past few years, Permian production has ramped up significantly. Consequently, any disruption in takeaway capacity, which had been tight, caused spreads to blow out. For instance, if a pipeline that normally takes crude out of the Permian Basin goes down for some reason, producers must redirect the crude to other pipelines or find other transport. If they use these other options fully, they could cause a temporary glut of Permian crude, pushing prices downward. Additionally, takeaway capacity in the Permian Basin had lagged growth in production for some time, which caused a price divergence between WTI Midland and WTI Cushing. Companies in the Permian Basin generally receive a price closer to WTI Midland crude than WTI Cushing, so this price divergence hit revenues of Permian producers.
Increased midstream solutions have helped to eliminate bottlenecks
As we've seen, Midland has traded at a slight premium to Cushing, as infrastructure such as Magellan Midstream Partners' (MMP) Longhorn pipeline has started service and helped to alleviate bottlenecks in the area. Additionally, Sunoco's Permian Express Pipeline and the reversal of Magellan Midstream Partners' Longhorn Pipeline are allowing more crude from the Permian Basin in West Texas to flow directly to the Gulf Coast, where much refining capacity sits, and bypassing the glut of crude that has been accumulated at the Cushing storage hub.
Investors should monitor the Midland-WTI spread
The spread between Midland and Cushing crude has remained very tight, with low volatility over the past several months. Midland crude's increase in price relative to Cushing over the past several months has been a positive medium-term catalyst for Permian names. But if takeaway capacity becomes tight (which could happen if Permian production increases at a more rapid pace than infrastructure expansions), disruptions can cause the spread to widen significantly again. More capacity coming online, such as the reversal of the Longhorn Pipeline, can mitigate these risks. Investors holding names with Permian exposure such as CXO, LPI, RRC, and EOG may find it prudent to monitor the Midland-WTI spread. Additionally, several names with Permian exposure are in the Vanguard Energy ETF (VDE).