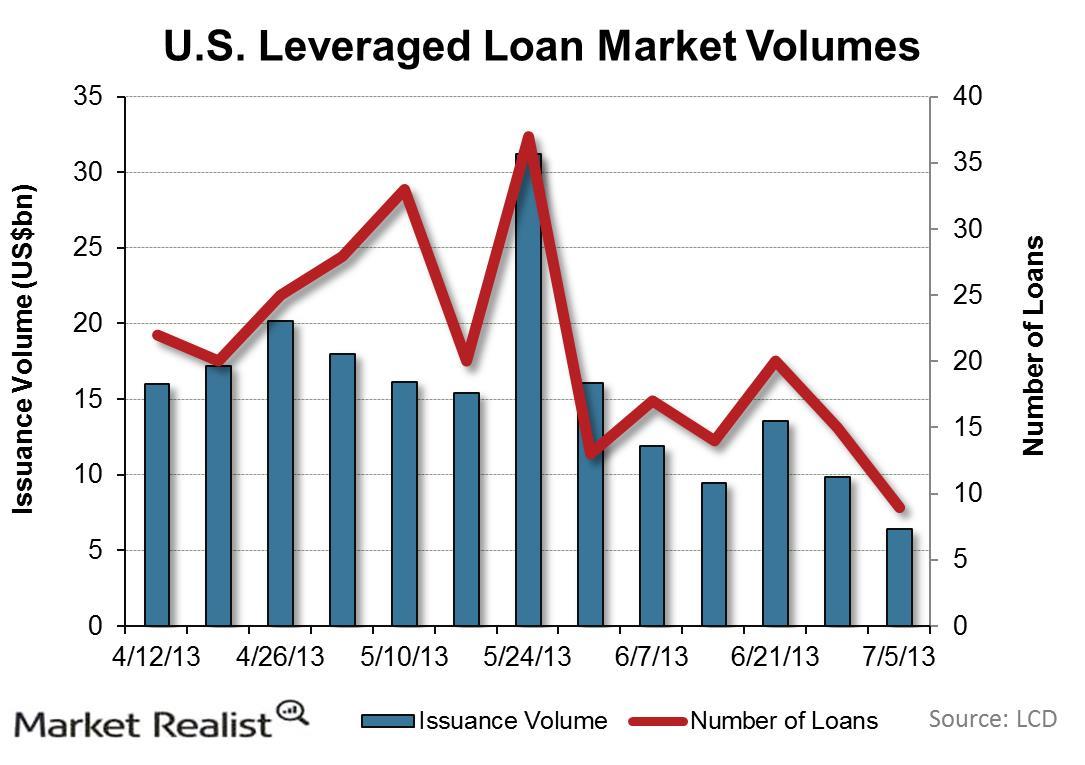 Why leveraged loan volume is losing steam: Can prices hold?
By Dale A. Norton

Nov. 20 2020, Updated 1:36 p.m. ET
Last week was dismal in terms of volume for both bonds and loans given the short week and anticipation of a Fed minutes release
Weekly volumes are good indicators of market strength. The high yield bond market volumes have fallen significantly since May due to the speculation of the earlier-than-expected tapering of quantitative easing.
Fed rattles markets
It all started on May 22, when the Federal Reserve released its minutes for the previous meeting. The minutes hinted at a reduction later in the year of the bond buying program, which has sustained interest rates at artificially low levels.
Later, on June 19, Fed chairman Ben Bernanke confirmed plans to start tapering the bond buying program, intending to complete it by mid 2014, subject to unemployment dropping below 6.5%.
Short week, much speculation
Article continues below advertisement
It was no surprise that the week of July 4th was slow, given that it was technically a three-day week since Friday was a dead day. The high yield market had no issues pricing—which, while rare, makes sense given how low volumes were already. The game right now is price discovery, and no issuer wants to be the first in the market until someone else draws a line in the sand (even if that line is chest-deep in water…).
The leveraged loan market priced only nine deals, for a total of $6.4 billion. This is down from the $10 billion seen the week before, but the 40% drop seems reasonable since the week included one fewer day, and Friday could also be considered null. Investors were tough on the issuers, and eight out of the nine deals priced at the wide end of talk or after issuers granted some structural changes.
Underlying fundamentals strong
The underlying fundamentals remain strong, given that investors are putting cash to selectively based deals. Out of the nine deals, four were dividend recapitalization and one was a leveraged buyout. This more bullish (positive) use of proceeds contrasts with the 60% to 70% refinancing observed earlier in the year.
Additionally, Springer Science & Business Media launched a $1.6 billion seven-year covenant-lite deal to back the secondary buyout of the company by BC Partners from EQT Partners and GIC Special Investments. The fact that these jumbo transactions continue to come up (such as the Valeant Pharmaceuticals LBO deal the prior week) shows that the underlying fundamentals remain strong.