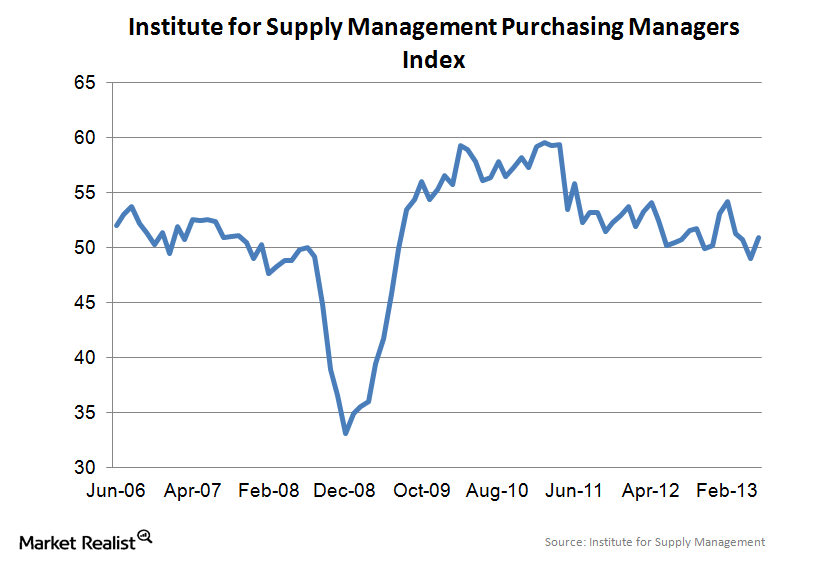 ISM PMI shows manufacturing back in expansionary territory
The Institute for Supply Management Index assesses the state of manufacturing in the United States.
The Institute for Supply Management Purchasing Manager's Index (ISM PMI for short) is similar to the other regional PMI indices, however, it covers the entire country. The ISM PMI looks at various business indices, like new orders, production, employment, supplier deliveries, inventory, customer inventories, prices, backlog, exports and imports, and capital expenditures. A reading over 50 means that manufacturing is generally expanding. A reading over 42 indicates the economy in general is expanding.
Manufacturing activity rebounded somewhat in June after contracting in May
The index of overall activity rose to 50.9 in June from 49 in May, indicating expansion for the fifth month out of six. New orders and production drove the increase. Employment fell. Prices rose as raw material prices increased. Employment registered 48.7, the first contraction in a long time.
PMI can be used to predict GDP growth. The current level for June (50.9) would correspond to a 2.7% increase in GDP. The average from January to May (51.5) would correspond to a GDP growth rate of 2.9%.
Implications for home builders
Article continues below advertisement
Overall, the report shows the economy stuck in first or second gear. The drop in employment is certainly discouraging, although the report does not mention the sequester, which has been the excuse du jour for weak employment numbers. Any sequestration-related effect is going to be concentrated in Q2 and then dissipate.
Overall increases in business activity and consumption is starting to drive more business for home builders, like Standard Pacific (SPF), Lennar (LEN), KB Homes (KBH), Meritage (MTH) and Ryland (RYL). Housing starts have been so low for so long that there is some real pent-up demand that will become unleashed as the economy improves. This can create a virtuous circle in the economy as increasing demand raises prices, which re-ignites the wealth effect and increases consumption. The secular story for home builders is optimistic – household formation numbers will be a real wind at their backs.
On the other hand, the shortage of skilled workers could negatively affect margins as business expands. Lennar mentioned this concern on their second quarter conference call, although they considered it to be a blessing in disguise as higher employment and higher wages will drive consumer confidence and growth. That said, the report noted that raw material prices are increasing, but home builders still reported pricing power and margin expansion. An uptick in raw material pricing or labor costs could negatively affect home builders, but so far margins are generally strong.