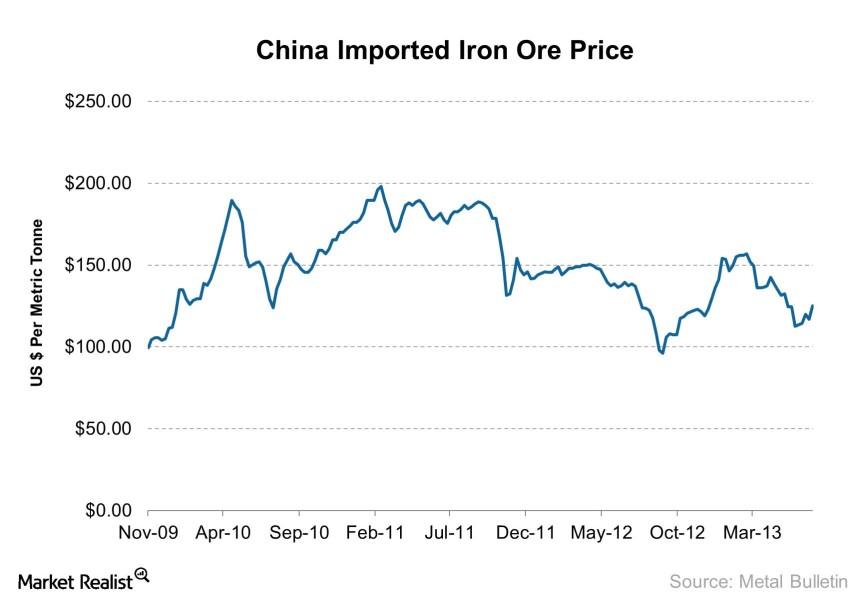 Iron ore shipments rose in June due to demand, positive for dry bulk shipping
China's iron ore import data
China's iron ore import is a key driver of shipping demand, making up more than 75% of the world's total iron ore shipments. So China's import rising is positive for shipping rates—Capesize vessels in particular—which can give short-term support to share prices and a medium-term boost to companies' financials. While data on China's iron ore import is available from the customs agency, the data lags by a month. To get around this issue, investors will sometimes look at inventory data, which is currently available on a week-to-week basis.
Iron ore inventory
Article continues below advertisement
According to Antaike Information Development Company, iron ore inventory at Chinese ports rose throughout May and June, from ~67 to ~72 million metric tonnes. Based on this information alone, it's hard to say whether import is rising; inventory can also rise because of lower demand. To overcome this problem, investors also look at iron ore prices. If an inventory build-up were driven by lower demand, then prices for imported iron ore wouldn't be rising—unless imported iron ore prices were rising due to a lower supply of exportable iron ore.
Iron ore price
According to information available from Metal Bulletin, iron ore prices at major ports fell during May but rose in June. However, falling iron ore price is a result of lower imports or an incentive for higher imports. When traders demand fewer iron ore imports, iron ore prices fall to the level that the next buyer's willing to purchase for. On the other hand, lower prices, which work just like bargains, can draw traders to import more iron ore. A solution to this problem is to look at shipping rates. While higher shipping rates could be driven by fewer ships, short-term fluctuations in shipping rates are often driven by demand factors.
Shipping rates also rise
A look at Capesize spot rates reveals that spot rates held mostly steady in May, but climbed throughout June.
Inference
The research shows that higher imports in May were likely driven by lower prices, while June imports were driven by higher demand. Unless iron ore price and inventory rise higher for another few weeks, June's data would only point to a short-term optimism among traders importing iron ores. Nonetheless, June's data point is a positive indicator that traders continue to believe China's economy isn't at the brink of collapse—especially since China's interbank repo rate also rose to a record high (see China's interbank lending rate falls below 6.0%, positive for dry bulk shipping?), which has historically foreshadowed a weaker economy. This is positive for dry bulk shipping companies such as DryShips Inc. (DRYS), Diana Shipping Inc. (DSX), Knightsbridge Tanker Ltd. (VLCCF), Navios Maritime Partners LP (NMM), and Safe Bulkers Inc. (SB) in the near term.
To see other key drivers that affect the marine shipping industry, visit our driver page, Marine Shipping. For other industries currently available, see our Home Page.