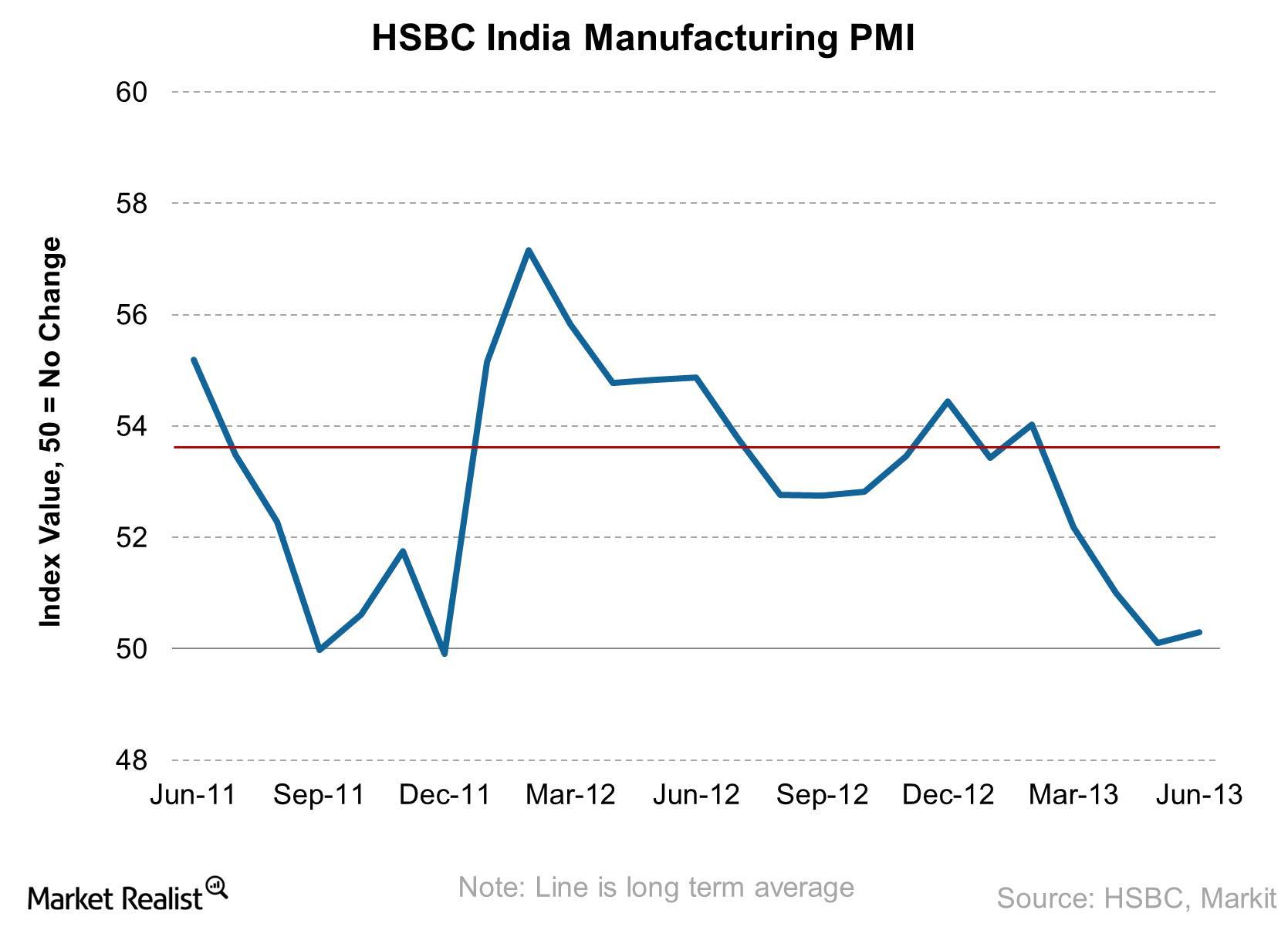 Must-know: Why India's June PMI increase is full of negative signals (Part 1)
By Dale A. Norton, ME

Dec. 4 2020, Updated 10:52 a.m. ET
PMI increases versus May, but same underlying problems remain
The PMI (Purchasing Managers Index) survey comes out monthly and is sponsored by Markit and HSBC. The survey polls several aspects of the production logistics chain, though the main index is assembled based on only five key items:
New orders
Production output
Employment
Suppliers' delivery time
Inventories
The report offers insight into other items, such as new export orders, backlogs of work, and inflation of costs.
Barely holding on to neutral growth
Article continues below advertisement
The India PMI closed at 50.3, which is a marginal improvement from the 50.1 we saw in May[LINK]. Leif Eskesen, HSBC chief economist for India and the ASEAN (Association of Southeast Asian Nations), stated, "Manufacturing activity was broadly flat in June. Output continued to contract due to power shortages, albeit less so than last month. Moreover, new orders contracted led by weaker domestic demand."
New orders
New orders contracted for the first time in 50 months, finally crossing the 50 point line, though marginally. Participants cited weak economic conditions compounded by increased competition as the causes for the drop.
Production output
The manufacturing output remained below the 50 point neutral growth line for the second consecutive growth. The rate of decline, though, was lower, but the problems were the same: persistent power cuts and weak economic conditions. All sectors were down, with consumer goods hit the hardest.
Employment

Employment was a bright spot, showing an increased rate of growth. While consumer goods saw the largest decline in new orders, it was this sector that increased employment at the fastest rate. As backlogs of work continued to increase at the fastest rate in six months, companies hired more staff to address the growth. Yet interestingly enough, some companies mentioned that they faced issues regarding a lack of labor availability.
Read on for the other indices
This analysis continues in Must-know: Why India's June PMI increases is full of negative signals (Part 2)