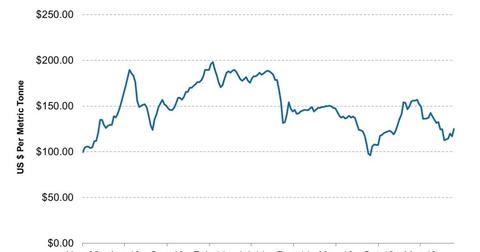 Imported iron ore prices hit $125 per metric tonne, positive for dry bulk shipping
By Xun Yao Chen

Updated
Commodity prices and shipping
Commodity prices are leading indicators of an economic cycle. Because suppliers of raw materials require time to ramp up production, an increase in demand during an economic expansion will often lead to higher prices. As a result, commodity prices correlate highly with shipping.
Iron ore prices
On July 5, the price of imported iron ore at major Chinese ports stood at $125 per metric tonne. Prices have risen lately due to China's restocking activity, which was also positive for shipping rates. Capesize spot rates, for example, rose nearly 50% throughout June, as measured by the Baltic Capesize Index (see Dry bulk shipping rates rise due to restocking, but likely downside looming).
Article continues below advertisement
Iron ore prices bottomed in mid 2012 as the central bank of China announced $157 billion worth of stimulus to energize its falling economy. Although iron ore prices rose following the announcement, investors knew more economic stimulus was coming. They learned this from following the news that China's local governments were actively announcing programs to support their region's falling business activity over the summer. While the central bank's announcement drove iron ore prices higher, as well as the stock market's, prices have come down since, as the government moved to cool the property market that had been growing at ~20% year-over-year, measured in price per square foot.
Inference
The fact that iron ore prices rose last week and continues to trade above $100 per metric tonne suggests traders continue to expect that China will be able to prevent a financial crisis, and that the country's real estate sector should continue to expand over the long term. This has been positive, and would be a long-term positive for shipping companies such as DryShips Inc. (DRYS), Diana Shipping Inc. (DSX), Knightsbridge Tankers Ltd. (VLCCF), Safe Bulkers Inc. (SB), and Navios Maritime Partners. But with continuous uncertainty regarding China's financial system—and the government's apparent tolerance of lower economic growth—short-term risk and a downside remain (see China's interbank lending rate falls below 6.0%, positive for dry bulk shipping?).
To see other key drivers that affect the marine shipping industry, visit our driver page, Marine Shipping. For other industries currently available, see our Home Page.