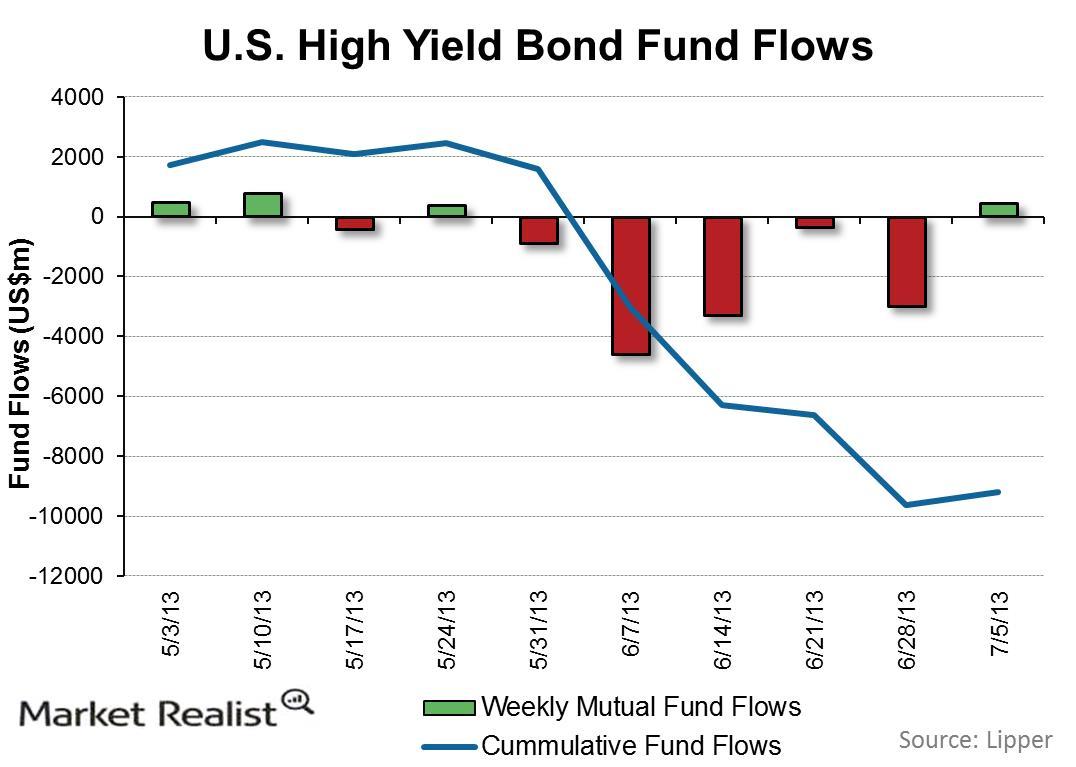 Must-know: High yield fund flows regaining strength, time to dip back in?
After several weeks of record outflows, investors start regaining trust
Fund flows gauge where most investors are moving their money. While following this indicator assumes momentum strategies work, in weeks of high inflows, there will be a delay between the time when funds come in and when managers can invest them in assets, so they become more helpful.
Additionally, steady inflows or outflows can help define a trend in markets where price volatility makes it hard to figure out which direction the market's moving. Weeks of strong outflows may also reveal fundamental changes in investors' perception of a particular asset class, such as last month, when Bernanke spoke after the FOMC (Federal Open Market Committee) June meeting. While outflows mean the money has left the funds and the prices have dropped already, they could signal that there's more to come.
Fund flows back in black

Despite the short week last week due to the July 4th holiday, high yield funds saw an inflow of $449 million. This was a trend reversing data point after the high yield bond mutual funds saw outflows of approximately $12 billion in just over a month.
Article continues below advertisement
The CDX20 HY Index closed marginally higher for the week, gaining 0.13% and continuing the minor pullback from the prior week. As managers liquidated bonds to meet cash redemptions, many investors saw the opportunity and bid up the cheap bond prices, which were already reflecting the rise in interest rates.
Time to dip back in?

The days of strong high yield bond returns are likely gone, but investors should bear in mind that any healthy, well-diversified portfolio should contain a share of bonds. Bonds provide fixed-interest income and act as a hedge during downturns. It's wise to reduce bond allocations temporarily when there are interest rates hike expectations, such as two months ago. However, now that the 10-year Treasury rates have spiked at least 1% higher, it would be a good idea to start rebalancing towards more long-term allocations in the portfolio.