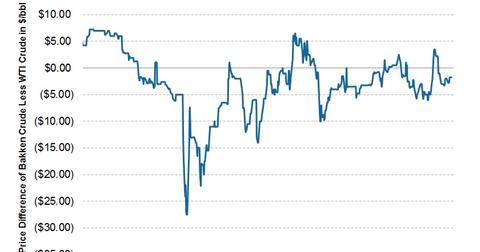 Enhanced takeaway solutions stabilize WTI-Bakken spread, positive outlook
By Ingrid Pan

Updated
Bakken crude traded higher relative to WTI Cushing
For the week ended July 12, Bakken crude closed $1.75 per barrel below crude at WTI Cushing, a change of $0.25 per barrel from the prior week, when Bakken traded $2.00 per barrel below WTI Cushing. This is a slightly positive catalyst for producers with Bakken assets, as the discount they're receiving relative to the U.S. benchmark of WTI has moved tighter.
Spread has been prone to volatility due to surging Bakken production
Over the past several years, oil production in the Bakken Shale and Williston Basin in North Dakota has increased rapidly. For example, production in April 2013 reached 727,150 barrels per day compared to 546,840 barrels per day in April 2012 and 285,190 barrels per day in April 2011.
Article continues below advertisement
With the surge in oil production came a huge need for oil takeaway infrastructure. However, the completion of infrastructure had struggled to keep up with the growth in production. This caused the price of Bakken crude to lag significantly behind WTI crude at some points over the past few years. Notably, in early 2012, the differential increased to as much as $27.50 per barrel.
Increased takeaway solutions have caused the spread to stabilize and close in
But the spread has closed in dramatically since then, as companies have successfully found other ways (such as rail) to transport crude out of the area. According to an article by the U.S. Energy Information Administration, "Pipelines are the most cost-effective way to transport crude oil in the United States, but they are expensive to build and may face regulatory hurdles. For these reasons, companies have turned to rail transport to deliver crude oil across the nation." The surge in Bakken production demanded a quick and efficient takeaway solution, so rail capacity out of the area has greatly increased. This additional infrastructure in the region has allowed Bakken crude to reach refining markets on the East Coast, West Coast, and Gulf Coast.
Companies expect tighter spreads going forward
Article continues below advertisement
During Continental Resources' (a major Bakken operator) 4Q12 earnings call, management noted, "A fundamental change occurred in the (Williston) Basin with the emergence of multiple true rail markets, new loading facilities across the play, and the proliferation of offloading facilities at end user refineries on all three coasts." It further explained, "Logistical bottlenecks created market opportunities, allowing rail capacity to grow and become the primary mode of shipment out of Bakken… Now that capacity exceeds production and competitive markets are enabled, Continental has increased rail utilization and has access to refineries and markets throughout the US… During the year, we grew rail shipments to 72% of our Bakken oil in December from a starting point of 46% in January. As an industry, we're displacing high-priced foreign crude on all three coasts, and by switching to low sulfur Bakken crude, refineries can potentially help meet stricter clean air standards… With the expected reduced volatility and now improved visibility and access to… infrastructure, we are narrowing and lowering our 2013 guidance range for differentials to $5-7 off WTI. This represents a 37% improvement on our previous estimates."
Additionally, on the company's 1Q13 call, management noted, "First quarter average oil differential was $4.29 per barrel below and favorable to our 2013 guidance range of $5 to $7 for the year. In the first quarter, approximately 80% of our operated Bakken wells were railed out of the basin. Recently, we've seen a narrowing of the Brent/WTI spread, which is bringing the rail option into rough parity with pipeline alternatives." As Continental noted, capacity is keeping pace with production.
Positive outlook
From a short-term perspective, the spread changed by $0.25 per barrel over the week (with Bakken moving higher relative to WTI Cushing), which was a positive catalyst for producers in the region. Furthermore, over the medium to long term, increased infrastructure has allowed for differentials to close and stabilize and has even spurred major Bakken operators such as Continental Resources (CLR) to change guidance on their realized differentials in order to be closer to WTI. These developments are medium-term positive catalysts for other operators in the region, such as Whiting Petroleum (WLL), Kodiak Oil & Gas (KOG), and XTO Energy (part of Exxon Mobil, XOM). Indeed, over the medium term, the spread closed in to trade around par where it was trading as wide as $10 per barrel in October 2012, and as wide as $27 per barrel in February 2012.