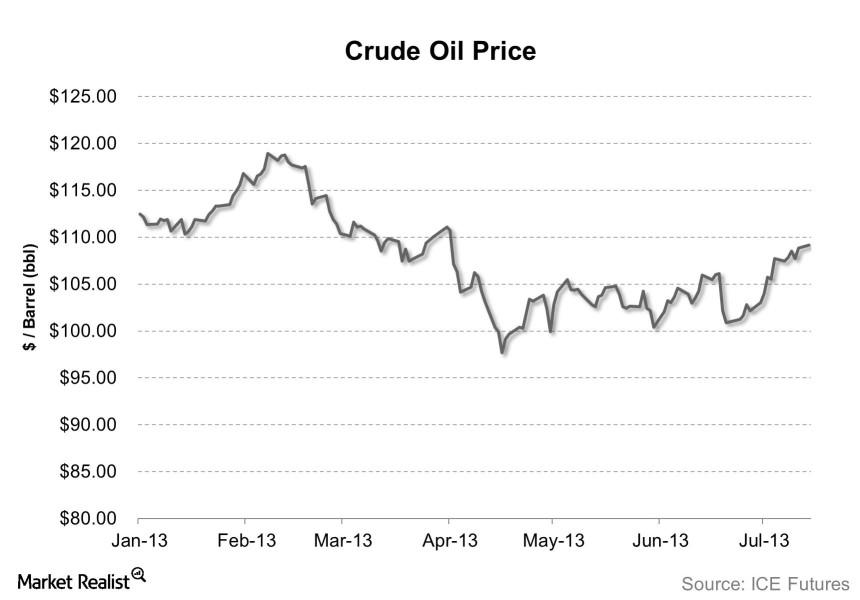 Egypt tension pushes oil past $109, shipping rates rise, but downside for tankers
By Xun Yao Chen

Nov. 20 2020, Updated 2:53 p.m. ET
Tanker stocks tied to oil prices
Tanker stocks often move in tandem with oil prices in a demand-driven market. But because tanker companies also use oil to run their ships, a price increase in oil due to supply shocks (such as political disruptions in the Middle East) also affects tanker firms differently. To get a sense of oil supply and demand balance, traders and investors often look at movements in oil price.
Unrest in Egypt pushes oil up
Article continues below advertisement
Oil prices have risen lately due to uncertainty and unrest in Egypt. On July 15, oil traded at $109.14 per barrel, which was an increase of $6.14 from two weeks ago. Any conflict in the Middle East has historically raised worries of disruption in oil production fields and shipments, which often leads to higher oil prices due to lower supply. Oil rose on the day as Islamists in Egypt, which controls the Suez Canal (where the majority of the world's oil shipments pass through), protested for reinstating the ousted President Mohamed Mursi.
Rising oil prices due to supply concerns are negative for tanker companies, since a significant chunk of shipping companies' cost is fuel. Higher fuel prices pressure costs. Whether the companies can pass the rising prices on to customers is something to think about. So far, it seems they can, as tanker spot rates have increased from last week. Several oil shipping companies also rose recently due to higher shipping rates.
Effect on earnings
But whether this will translate to higher earnings is questionable. Although revenue may rise, costs will also rise by the same amount, which will lead to lower margins. In the end, earnings may not change at all. Since earnings are what investors look at, shipping companies are unlikely to benefit from this higher oil price.
While neutral to earnings, this effect would be negative from a share price perspective, because the market might have raised its recent prices, seeing that shipping rates rose. If it had, this leaves room for some downside, which is negative for share prices of tanker companies such as Teekay Corp. (TK), Tsakos Energy Navigation Ltd. (TNP), Ship Finance International Ltd. (SFL), Nordic American Tankers Ltd. (NAT), and Teekay Tankers Ltd. (TNK), as well as the Guggenheim Shipping ETF (SEA). Alternatively, a resolution in Egypt would also lead to lower oil prices, which will drive shipping rates down.
To learn more about drivers of tanker stocks, continue to our Marine Shipping Industry Page.