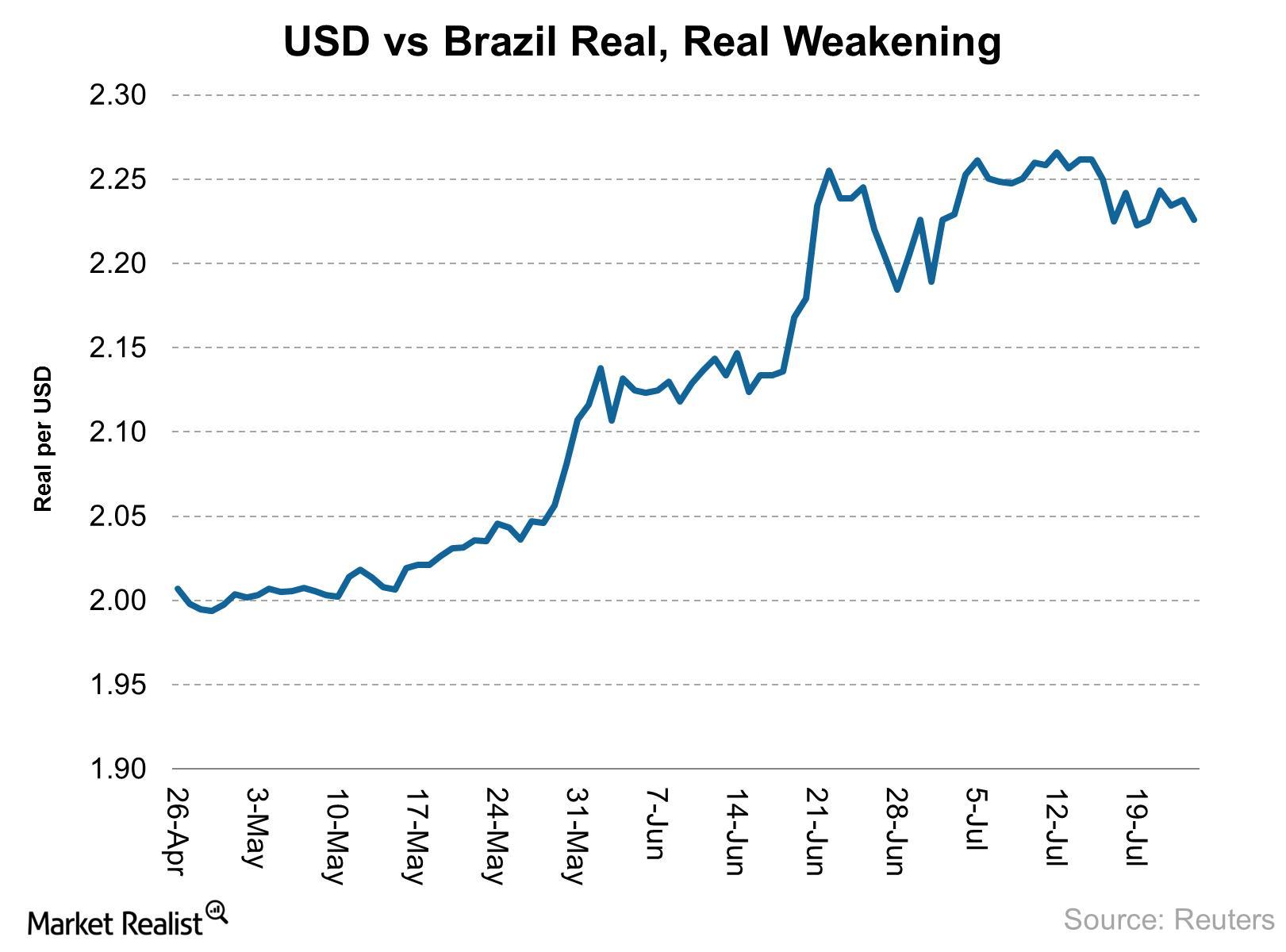 Dump the MSCI Brazil Index (EWZ) for a hedged option, avoid the FX risk (Part 2)
By Dale A. Norton

Nov. 20 2020, Updated 3:22 p.m. ET
Continued from Part 1
The Brazilian real has depreciated over 10% since mid-May, and will likely just get worse
The U.S. dollar is likely to strengthen into Q3 2013 for several reasons. The first reason is that the tapering consensus is that the Federal Reserve will start ramping down its bond buying program around September. This will reflect positively in the currency, since it means the Fed would be printing less money and so the currency would likely appreciate.
Article continues below advertisement
Additionally, tapering will begin when the economy starts showing signs of improvement, so the strength of the economy will attract investors into the market and increase the demand for U.S. dollars. The recovery should also boost the government budget deficit, which will reduce the credit risk of its bonds and increase their relative value versus other countries.[1. This effect, though, is short-lived, as investors will be attracted by the appreciation potential but move quickly towards higher-yielding assets.]
The Brazilian macroeconomic indicators continue to disappoint. Between persistently high inflationinflation remains persistent, lower consumer expectations, and sluggish manufacturing surveys, economists have few reasons to be excited about the prospects. Plus, the continuing social unrest has given investors additional concerns. The next Manufacturing PMI survey will come out in August, and analysts are expecting continued weakness.
Finally, despite recent aggressive interest rate hikes, high inflationinflation remains persistent. Consistently high inflation implies the currency loses purchasing power, which translates into depreciation.
Overall, there's no convincing reason to invest in Brazil (EWZ), but if you do, the MSCI Brazil Hedged Equity Fund (DBBR) would offer at least a currency hedged option to avoid getting run over by the continued Brazilian real depreciation.