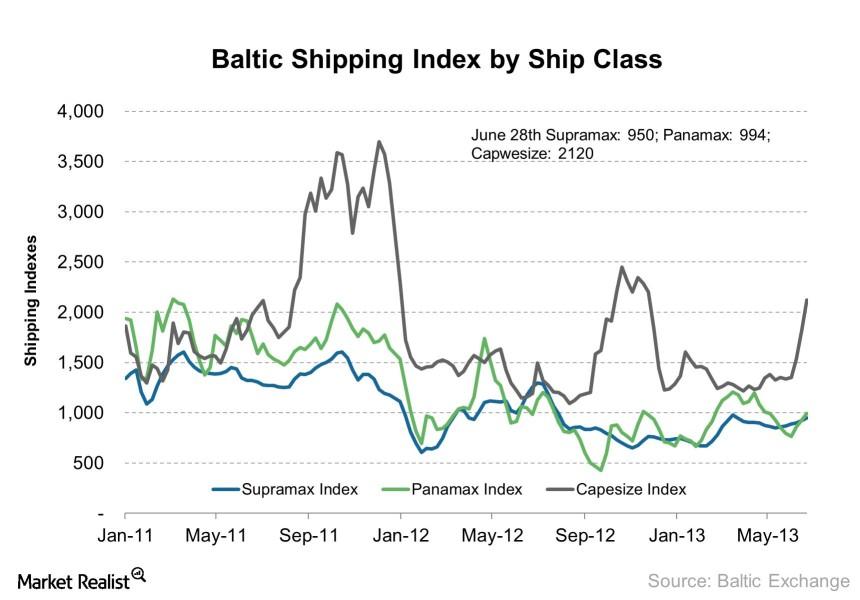 Dry bulk shipping rates rise due to restocking, but likely downside looming
Supply and demand balance drives dry bulk shipping companies
The dry bulk shipping industry's service is commoditized. So, supply and demand balance is one of the most important drivers for dry bulk companies' top- and bottom-line performances. One metric available to investors is the Baltic Dry Index (BDI), which reflects the daily shipping rates to transport raw materials such as iron ore, coal, and grain across oceans in the spot market.[1. The two main revenue generation models in the shipping industry are Spot (Voyage) and Time (Period) Charters. "Spot charters" refers to the one-time price of shipping a specific amount of raw material, while "time charters" reflect the price of borrowing a ships' service for a specific period. "Time Charter Equivalent" (TCE), which converts spot charters (specified in $ per ton) to time charter rates ($ per day), are often used to compare companies in different markets. The two often mirror each other over the medium and long term.] When demand growth outpaces supply growth, shipping rates rise, supporting companies' revenues, earnings, and profits.
Rising Baltic rates
On June 28, the Baltic Supramax, Panamax, and Capesize Indexes continued to rise higher from last week:
Supramax: 923 to 950
Panamax: 927 to 994
Capesize: 1822 to 2120
Article continues below advertisement
Shipping rates—Capesize in particular[1. Capesize vessels primarily haul major bulk materials such as iron ore and coal, while Panamax vessels transport iron ore, coal, and grain, and Supramax ships coal, grain, and other minor bulks.]—have been on a run over the past few weeks due to China's iron ore restocking activity, which makes up more than 20% of the world's total dry bulk trade. Chinese mills have begun restocking, as inventory has fallen to ~67 million tons in March, a figure unseen for three years, and prices for imported iron ore have fallen ~$40/metric tonne (28%) since the government acted to cool down the property market in February earlier this year.
Shipping rates unlikely to rise much higher
Nonetheless, shipping rates will likely fall as demand continues to outpace supply growth (see Shipping capacity growth breaks below 7%, first time since 2009). Additionally, China's economic activity will likely remain weak, since the government is tolerating lower economic growth to implement reforms and put long-term economic growth on a more sustainable path. These factors will likely pressure the share prices of dry bulk companies such as DryShips Inc. (DRYS), Diana Shipping Inc. (DSX), Navios Maritime Partners LP (NMM), Eagle Bulk Shipping Inc. (EGLE) and Safe Bulkers Inc. (SB) in the short term, especially if investors (the market) become risk-adverse and focus more on short-term fundamentals.