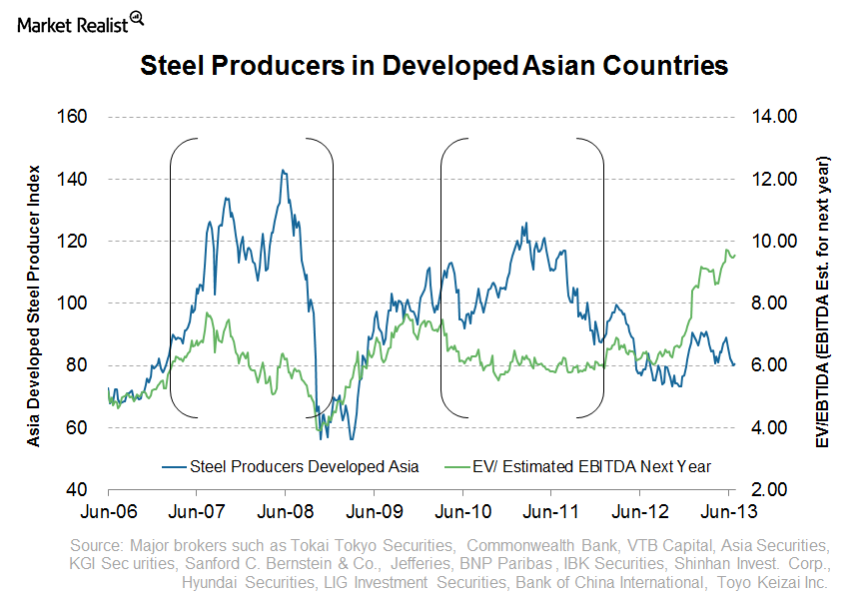 Contrarian approach: why high valuation multiple is positive for shipping stocks (dry bulk)
Valuations can often tell investors the outlook of equities in the near future. Although value investors often look for valuations that are low, high valuations can often signal better times ahead. This is especially true for cyclical companies, such as steel producers and shipping companies, as has been mentioned by Peter Lynch in his famous book Beating the Streets.
Mr. Market
At the end of June, the EV/EBITDA[1. Enterprise Value/Earnings Before Interest, Tax, Depreciation and Amortization Expense] valuation multiple for steel producers in developed Asia[2. Korea, Japan, Singapore, Taiwan and Hong Kong] stood at 9.58, slightly lower than 9.71 at the end of May, based on 2014 EBITDA estimates made by analysts in Asia. The equal weighted price index took a larger fall, from 85.62 to 80.63. Stock prices were under pressure in June as China's financial woes hit the news and the market was spooked by the central bank's plan to taper off current asset purchase program. On a positive note, a lesser fall in valuation suggests some analysts had revised 2014's EBITDA estimates higher.
Article continues below advertisement
Although value investors often look for low valuations, high valuation multiples often point to higher future earnings for cyclical industries, like steel and shipping. Analysts as a whole are either extremely bullish or bearish when fundamentals are about to change. For example, from 2007 to 2008 and in 2011, EV/EBITDA (next year estimated) kept falling while share prices rose higher, implying analysts were constantly revising their earnings higher. For a growing company that has limited competition, higher earnings often translates to higher share prices. But in a competitive industry with little product differentiation, fundamentals often revert to the mean. As long as EV/EBITDA holds at current levels, steel companies should perform well over the medium to long-term.
Medium-term: positive outlook; short-term risk remains
Positive outlook for steel companies generally translates to a similar outlook for dry bulk shipping companies, such as Knightsbridge Tankers Ltd. (VLCCF), Diana Shipping Inc. (DSX), Navios Maritime Partners LP (NMM) and Safe Bulkers Inc. (SB). This is because steel companies' performances are primarily driven by higher demand, which means higher iron ore and coal shipments, too. Although China's real estate sector is dragging steel companies down, demand should pick up or grow over the medium to long-term (see Soaring housing prices are actually positive for China's real estate and dry bulk stocks).