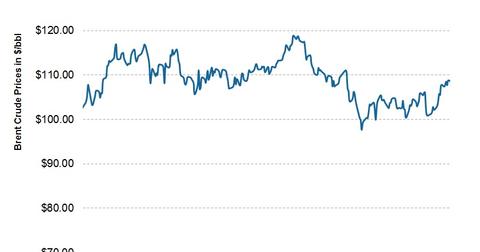 Why Brent crude prices advanced, benefiting international oil producers
By Ingrid Pan

Nov. 21 2019, Updated 9:12 p.m. ET
Brent crude is regarded as the international oil benchmark
Brent crude is viewed as the benchmark crude for international oil prices. So movements in Brent oil prices are a major driver in the valuation of international oil producers. Higher oil prices also incentivize producers to spend more money on drilling, which results in increased revenues for oilfield service companies (that is, companies that provide services such as drilling, fracking, and well servicing). Consequently, Brent crude prices are an important indicator to watch for investors who own international energy stocks.
Brent crude finished up last week
Article continues below advertisement
Last week, Brent crude prices finished up, closing at $108.81 per barrel compared to $107.72 per barrel the Friday before, as U.S. inventories had a much larger than expected draw (see Must-know: Oil prices rise to new highs on supportive inventory report). Since mid February, when Brent touched nearly $119 per barrel, prices fell dramatically to touch below $98 per barrel in mid April. Since then, Brent had been roughly range-bound in the $100-to-$105-per-barrel area. In recent weeks, oil prices moved higher due to unrest in the Middle East and draws in U.S. inventory levels.
Divergence from U.S. benchmark crude
Note that Brent crude doesn't properly reflect the price that producers within the United States receive. For domestic producers, WTI (West Texas Intermediate) is a more appropriate benchmark (read about last week's movement in WTI prices here), mainly due to a recent surge in domestic crude production, which has struggled to find sufficient transportation and outlets to bring WTI prices in line with Brent prices. For more on the price difference between the two benchmarks, please see Spread between WTI and Brent vanishes, lower relative U.S. oil prices. Note, though, that recently, the spread has narrowed significantly, and if it continues to narrow, the two benchmarks may soon trade in line again. Also, Brent represents a certain grade of crude, and differences in the qualities of oil can affect the price that producers receive. Nevertheless, most market participants view Brent as the international oil benchmark, and price movements in Brent affect international energy stocks such as Exxon Mobil (XOM), Chevron Corp. (CVX), ConocoPhillips (COP), and Anadarko Petroleum Corp. (APC).
Higher oil prices can drive higher energy stock valuations
Article continues below advertisement
As we've seen, higher crude prices generally have a positive effect on stocks in the energy sector. The graph below shows Brent crude oil price movements compared to XLE and XOM on a percentage change basis from January 2007 onward. You can see that crude oil, the XLE ETF, and XOM have largely moved in the same direction over the past several years.
The price increase this past week was a short-term positive for the sector
As demonstrated in the graph above, crude oil prices are a major driver in the valuation of many energy investments. Oil prices affect the revenues of oil producers, and consequently affect the amount of money oil producers are incentivized to spend on oilfield services. So the upward movement in prices this past week was a short-term positive for the sector. Investors with energy holdings in names with international exposure such as XOM, CVX, COP, and APC as well as the XLE (Energy Select Sector SPDR) ETF may find it prudent to track the movements of benchmarks such as Brent crude.