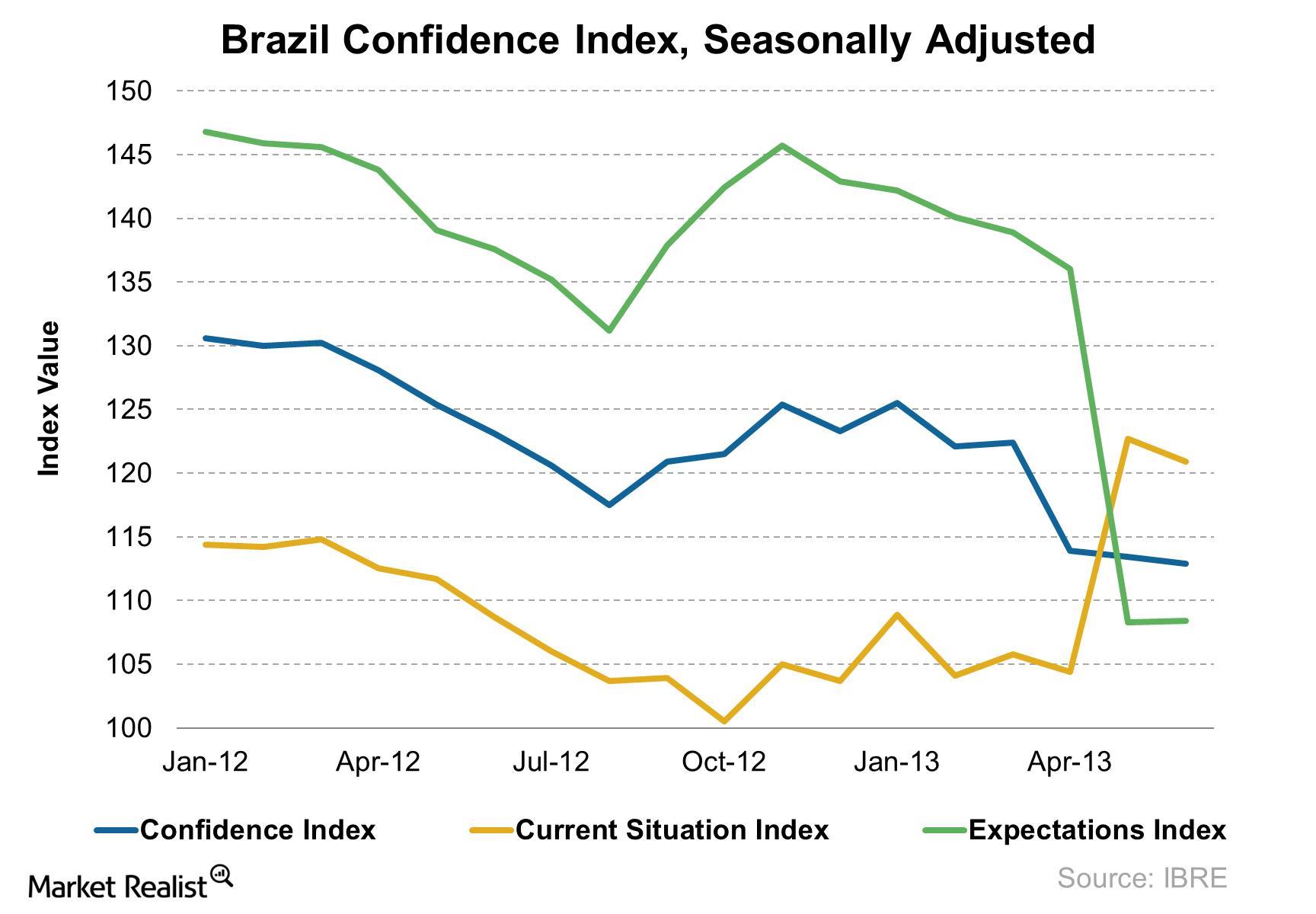 Why Brazilian consumers are becoming pessimistic
By Dale A. Norton, ME

Nov. 20 2020, Updated 4:36 p.m. ET
Consumer expectations surveys are helpful for analysts
Consumer expectations drive the trade-off consumers make between spending and saving. Both saving and spending are important for economic growth. More spending means there's more demand for products, so businesses increase revenues and profits. More saving, though, means banks have more capital to lend out to businesses to invest in increased capacity and productivity.
The difference is that spending translates instantly into faster economic growth, while saving has a longer lead time and may not fully translate into growth if banks decide instead to boost capital reserves, as is the case now in Brazil due to increased regulation.
Article continues below advertisement
Increased consumer spending can help an economy recover faster or remain more resilient during a recession. Consumer expectations surveys are good gauges of consumer spending intent, though at the same time, consumers may say one thing and do another. Nonetheless, these surveys are helpful for identifying changes in perception and confirming momentum trends.
The Consumer Expectations survey by FGV repeated the drop from last month
The latest survey by Fundação Getúlio Vargas (FGV) posted a 0.4% drop in June, which mirrored the drop recorded in May. This is now the fourth month below the year average.
The confidence index represents two elements: current expectations and future expectations. Last month, the drop was led by a deterioration of the future expectations as Brazilians became more pessimistic about economic conditions a year into the future. That same month, Brazilians also became more optimistic about their current situation.
This month, the pattern reversed, as the current situation component turned around and dropped more than the gains from May. At the same time, however, the future expectations remained flat.
Not a free fall, but not improving
While the decreases have slowed down versus previous months, the down trend is persistent. The slow-down in China has decreased trade with Brazil, and the pinch has now reached consumers. Additionally, the flight of capital from EM countries got worse after Bernanke's comments last week.
There's no catalyst in the short term, and recent interest rate hikes by the Brazilian Central Bank hinted towards a hawkish (aggressive) attitude to squash inflation, so it doesn't seem that the market will get any help from monetary policy either.
Finally, to make things worse for international investors, the strengthening dollar due to expectations of quantitative easing has triggered a depreciation of almost 8% over the past two months. This foreign exchange risk alone can be a deal breaker for may international investors.