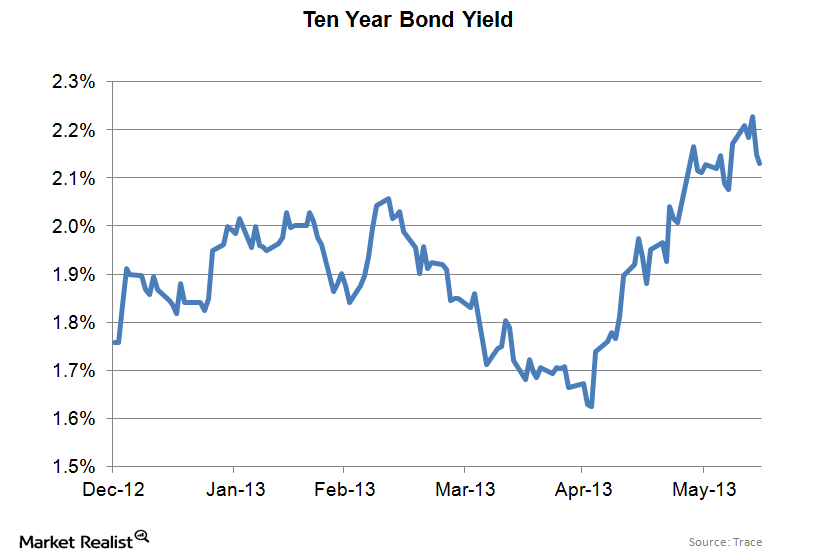 Weekly economic recap: why REITs are crushed while homebuilding is bullish
By Brent Nyitray, CFA, MBA

Nov. 20 2020, Updated 5:16 p.m. ET
The ten-year bond is the basis for all mortgage pricing
Long-term interest rates are priced off the benchmark long-term bond, which is the ten-year Treasury. These days, the ten-year bond reacts to economic data through the Federal Reserve's asset purchase program, also known as quantitative easing (QE). As a general rule, economic data that shows weakness is bond bullish; however, data that shows strength is not necessarily bond bearish.
The week in review
Article continues below advertisement
Last week, the ten-year bond rallied for the first time since mid-April, as it fell from 2.17% to 2.13%. There was no real catalyst for the move, although some participants are starting to think that the ten-year bond overshot on the downside after some strong economic data. One other possibility is that the dramatic sell-off in the Japanese Nikkei 225 index is causing bonds to rally.
Last week started off slow in terms of data, with nothing on Monday and then only the National Federation of Independent Businesses (NFIB) Small Business Optimism Index. The NFIB report again highlighted the bifurcated market, where big multinational companies are doing well, while small businesses are still struggling. Wholesale inventories and sales were in line with expectations. Job openings fell slightly.
Advance retail sales came in at +0.6%, which was a good number, although they only increased 0.3% when you strip out autos, gasoline, and building materials. Initial jobless claims fell, and inflation numbers like the import price index and the producer price index showed that inflation remains well contained. Finally, the University of Michigan Consumer Sentiment Index for June dipped slightly but remained close to post-recession highs. Industrial production was flat, while capacity utilization fell.
Implications for mortgage REITs
Article continues below advertisement
Mortgage REITs like Annaly and American Capital are driven by interest rates. The rally in the bond market did not do much to rally the mortgage REITs, however, as the Mortgage REIT ETF (MORT) rose about 0.6%. The mortgage REITs have been crushed, as the ten-year bond has sold off. For the REITs, it's all about the Fed's exit of QE. Certainly nothing in the data last week would prod the Fed to start pulling back, but it's hard to know how the Fed is reacting to data. Does it intend to start unwinding QE this year, and will it follow that plan as long as the economy does not tank? Or is it looking for strong economic reports to guide it? The market will focus on the Federal Open Market Committee (FOMC) statement next week for clues.
Implications for homebuilders
Homebuilders like Lennar (LEN), KB Homes (KBH), and Standard Pacific (SPF) are more sensitive to general economic strength. Last week's jobless claims were a good number, and the JOLT job openings still showed year-over-year growth. The producer price index showed raw materials prices were subdued, which helps their margins. The industrial production numbers and capacity utilization numbers show that manufacturing has room to improve. Finally, the Michigan Consumer Sentiment Index was bullish for homebuilders, as it showed that the mood of the homebuyer is still at post-recession highs.