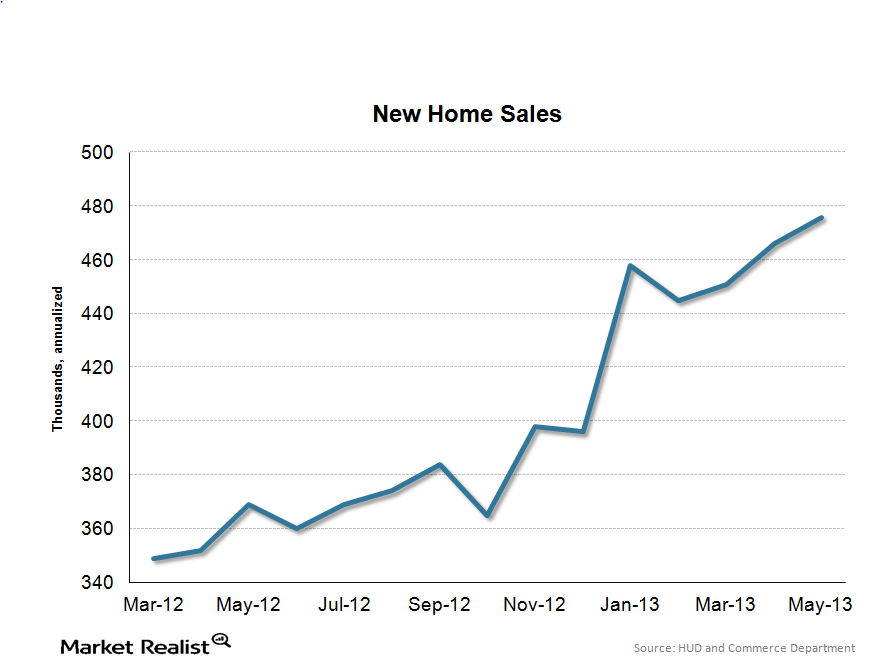 New home sales increase 29% from a year ago, positive for homebuilder stocks
By Brent Nyitray, CFA, MBA

Nov. 20 2020, Updated 2:49 p.m. ET
May new home sales, as reported by the Census Bureau and the Department of Housing and Urban Development, increased 2.1% from April
New home sales increased to an annualized pace of 454,000, up 2.3% from April (which was revised upward from an initial estimate of 454,000 to 466,000) and up 29% from a year ago. Activity picked up in the West, Midwest, and Northeast, while falling in the South.
Restricted supply has been the theme of the U.S. housing market over the past year
Article continues below advertisement
At the end of May, there were 161,000 new homes for sale, representing a 4.1-month supply. The median time a new home has been on the market has shrunk from nine months last summer to the current figure of five months. As professional investors have become major players in the real estate market, we're seeing bidding wars for properties in the hardest-hit markets, like Phoenix, and even strong markets, like Washington, DC.  For all the fears that a flood of properties would hit the market and drive down prices, the opposite problem has happened.
Prices are beginning to rise
The median sale price for a new home was $263,900, and the average price was $307,800. The median price is up 10%, while the average price rose 18%. These numbers aren't based on a repeat sales methodology, so you can't project nationwide existing home prices from these figures. On balance, the jump in prices implies that more activity is happening at the high price points. That said, the report showed that the sweet spot for new home sales has been in the $200,000 to $299,000 range. Transactions in the sub-$150,000 category fell.
Homebuilder earnings were strong
Article continues below advertisement
Homebuilders reported first quarter earnings last month, and overall, the reports were quite good. Reports noted particular strength in the West Coast, and also in the entry-level and first-time move-up sector. KB Homes (KBH), Meritage (MTH), and Ryland (RYL) had strong quarters. NVR had a weaker quarter due to its primarily East Coast focus. It appears that the first-time homebuyer might be returning to the market at long last. Certainly the restricted supply of existing homes is helping homebuilders at the margin.
The Home Builder ETF (XHB) is up smartly over the past 12 months, but we are still very, very early in the housing recovery. The first-time homebuyer has been absent due to tough credit conditions and a difficult labor market. As those circumstances change, a lot of pent-up demand will be released, which should drive home builder earnings for quite some time.