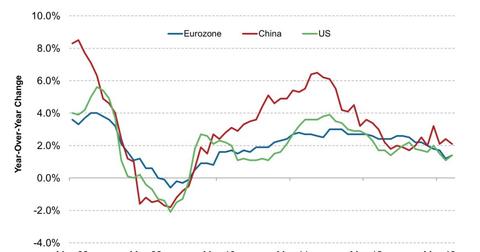 Low inflation supports availability of monetary stimulus, positive for shipping stocks
By Xun Yao Chen

Updated
Inflation's impact on spending and investment
Central banks often set a target on inflation rate because a mild inflation rate encourages people to spend more, while it also points out that demand is rising more than supply—a situation that suggests a growing economy. When inflation is high, however, central banks will use monetary policies to bring interest rates up in order to cool the economy down by tightening the availability of loans. On the other hand, when the inflation rate is low and the economy is slowing down, central banks will lower interest rates and increase the availability of loans to encourage spending and investments.
Low inflation and monetary policy
Article continues below advertisement
Globally, inflation has remained subdued. China's consumer price index (CPI), which measures the price of a basket of goods that people living in China generally buy, rose 2.40% year-over-year in May 2013. While European and U.S. inflation rates are relevant because the countries are China's largest trading partners and affect China's exports, China's inflation rate is most applicable to the central bank's monetary policy decision.
Inflation has remained low over the past few months, as China's manufacturing activity remains weak—though not too negative (see Ignore HSBC, China's official PMI aids shipping for explanation). While weak manufacturing activity means weak growth in the short term, weak manufacturing would be positive for dry bulk shipping companies that are heavily dependent on China's economic growth and real estate activity, because low inflation leaves room for the central bank to loosen monetary policy if necessary.
A crash unlikely
Article continues below advertisement
So, while China's manufacturing and real estate activity remains tepid (see China's weak real estate weigh on shipping, but likely short-term), and the government tolerates lower growth, a negative for dry bulk companies such as DryShips Inc. (DRYS), Diana Shipping Inc. (DSX), Safe Bulkers Inc. (SB), Eagle Bulk Shipping Inc. (EGLE) and Navios Maritime Partners LP (NMM) in the short-term, the world isn't going to collapse. This would also apply to the Guggenheim Shipping ETF (SEA).
Analysts have also discussed that a looser monetary policy could be restricted because of soaring housing prices and that the real estate sector will collapse. Read on to see whether this is true in Soaring housing prices is actually positive for China's real estate and dry bulk stocks.