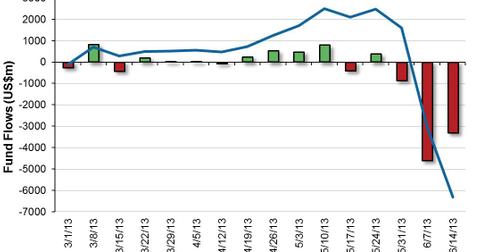 High yield bonds, the pain continues and will only get worse
By Dale A. Norton

Updated
The fund flows for last week once again plummeted as investors remove cash from bonds ahead of the FOMC meeting.
Fund flows are key in determining the sentiment of investors towards a given asset class. Weekly fund flows measure how much cash investors put into and remove from mutual funds focused on investing in high yield bonds.
The $3.3 billion outflow last week follows an all-time high outflow of $4.6 billion the prior week. The year to date outflows are now $6.3 billion, after been positive just two weeks before. This strong reversal towards the negative side emphasizes how investors fled the asset class in anticipation of rising interest rates.
Article continues below advertisement
Investors averse to high duration
The fixed coupon of bonds makes them sensitive to changes in interest rates, causing the price of the bonds to fall as interest rates rise. Since the rise in interest rates is imminent, investors have been trying to off-load their exposure to bonds.
The upcoming Federal Open Market Committee (FOMC) will have Federal Reserve Chair Ben Bernanke issue a statement of their outlook on the economy and interest rates. If his message hints at an earlier than expected tapering of the expansionary monetary policy, then rates will go up. The Federal Reserve has been buying over $80 billion in long term Treasury and mortgage bonds, artificially increasing the demand and causing interest rates to fall. When these actions are removed, the rates will slingshot back up.