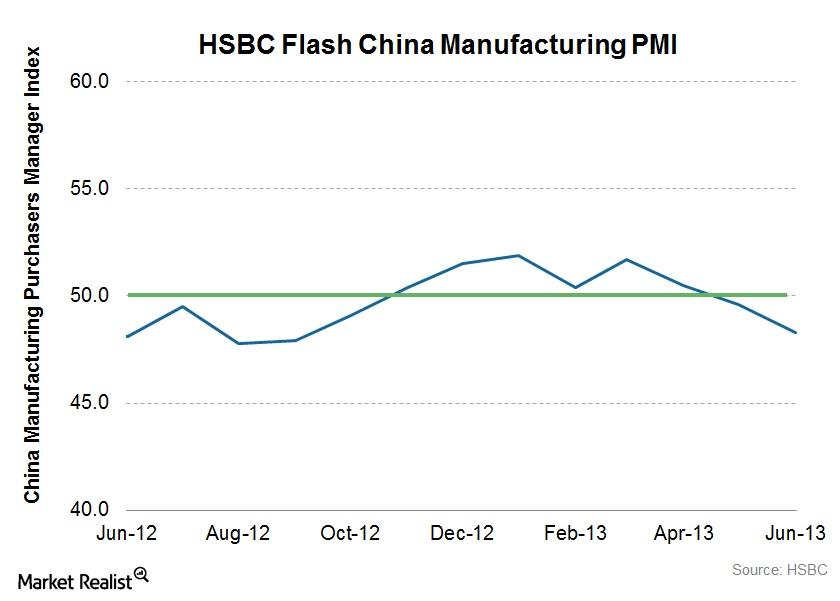 Why disappointing data from China dragged down markets and oil stocks
China's economy affects oil demand considerably
China is the second largest consumer of oil by country behind the United States. So changes in China's economic environment can significantly affect global oil demand and therefore oil prices, influencing valuations of oil companies such as ExxonMobil (XOM), Chevron (CVX), ConocoPhillips (COP), and Hess Corp. (HES) as well as energy ETFs (exchange-traded funds) such as XLE (Energy Select Sector SPDR).
Article continues below advertisement
One of the indicators the markets watch to gauge economic health is PMI, or the Purchasing Managers Index. The Chinese PMI is a data point released by the China Federation of Logistics & Purchasing and National Bureau of Statistics. PMI points above 50 indicate that the manufacturing sector is generally expanding, and PMI points below 50 indicate that the manufacturing sector is generally declining. The reading is based on five major factors, including new orders, output, employment, supplier delivery times, and inventories.
Latest HSBC PMI figure for China suggests under-performing manufacturing sector
For the month of June, China's PMI reading (as reported by HSBC, which differs from that reported by the China Federation of Logistics and Purchasing—see here for research regarding the other PMI data point) was 48.3 compared to economists' estimates of 49.1 and May's reading of 49.2. The lower than expected figure is negative, as it means that the manufacturing sector grew less than expected. Additionally, the lower figure month-over-month indicates that growth decelerated.
Growing demand from China and other developing countries has helped to make up for slackening demand from the struggling Eurozone. The graph below shows OECD (Organisation for Economic Co-operation and Development) nations' (which includes most developed nations) and non-OECD nations' oil demand over the past decade as reported by British Petroleum.
A weaker Chinese economy signals weaker oil demand, negatively affects oil prices, and puts downward pressure on oil stocks
This weaker than expected PMI data point was a negative medium-term indicator. Overall, this is negative for Chinese oil demand, which puts a damper on oil prices and therefore the valuation of oil stocks such as XOM, CVX, COP, and HES plus energy ETFs such as XLE.