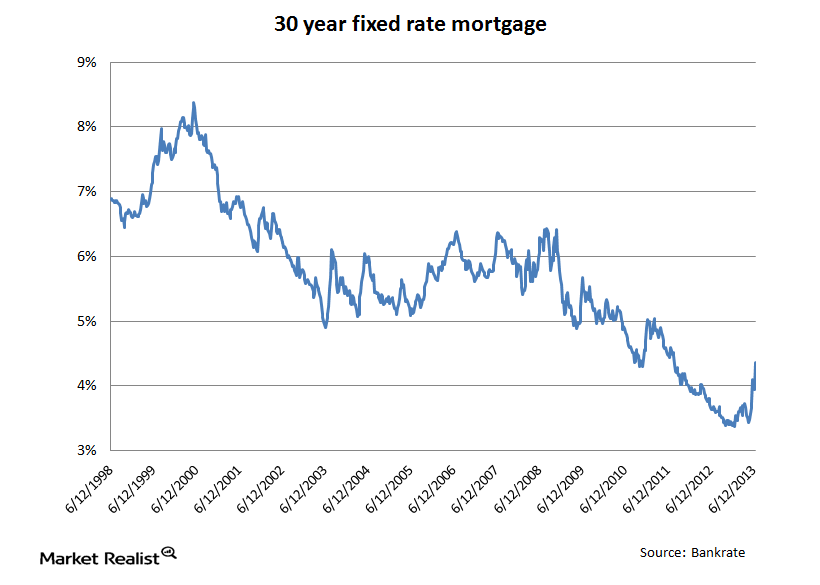 Bernanke's comments send mortgage rates screaming higher
By Brent Nyitray, CFA, MBA

Nov. 20 2020, Updated 10:53 a.m. ET
The recent bond market sell-off bumps up mortgage rates again
Mortgage rates are the lifeblood of the housing market, which is why Bernanke and the Fed began conducting quantitative easing (or QE) in the first place. Lower rates allow homeowners to refinance, which increases their disposable income and helps stimulate economic growth. Lower rates enable first-time home buyers to move out of an apartment and into a house, which means higher consumption (and good things for home improvement retailers like Home Depot and Lowe's). Consumption accounts for some 70% of the U.S. economy, and consumption has been depressed since the housing bubble burst. The Federal Reserve would prefer to keep rates as low as possible for as long as possible.
The sell-off in the bond market has been swift
Article continues below advertisement
Mortgage rates have been trading in a narrow range of 3.4% to 3.75% for most of this year. After bottoming in late April, rates have increased as investors began to pile into the equity markets. Q1 earnings were generally good, and the economic data has not been weak enough to cause fears of another recession. The market has been discounting the end of quantitative easing, and last week's FOMC meeting confirmed the market's fears that the punch bowl is being taken away.
The average 30-year fixed-rate mortgage increased by an astounding 35 basis points the week ending May 31, and it went out at 4.1%. Last week, it increased even more—by 42 basis points. This is the worst week for mortgage rates in almost ten years. That said, as you can see from the chart above, rates are still extremely low by historical standards.
Effect on homebuilders
Homebuilder stocks such as Lennar (LEN), Toll Brothers  (TOL), PulteGroup (PHM), and KB Homes (KBH) have rallied strongly over the past year, with the Homebuilder ETF (XHB) rising smartly. As real estate prices have rebounded, orders have increased for builders, with some reporting year-over-year increases of 50% or more. Lower mortgage rates will certainly increase demand, and with first-time homebuyers beginning to return, move-up buyers who are looking for their dream home will be able to sell their starter home.
Article continues below advertisement
Given that the economy could have depressed household formation numbers, there is real pent-up demand for housing. Housing starts have been below historical averages for the past ten years. With low mortgage rates, increasing demand, and a strengthening economy, homebuilders now have the wind at their backs. Generally, homebuilders reported good earnings, with the exception of NVR, which focuses more on the East Coast. The builders that have exposure to the red-hot West Coast market did very well. For homebuilders, the top-down macro picture looks good.
The open question is whether this increase in mortgage rates (almost 100 basis points in under two months) will begin to cool things off for the builders. As home equity improves, sellers are putting previously underwater existing homes on the market. Will additional supply offset the effects of a constrained inventory that have driven homebuilder earnings so far? Q2 conference calls for the builders will be very interesting.