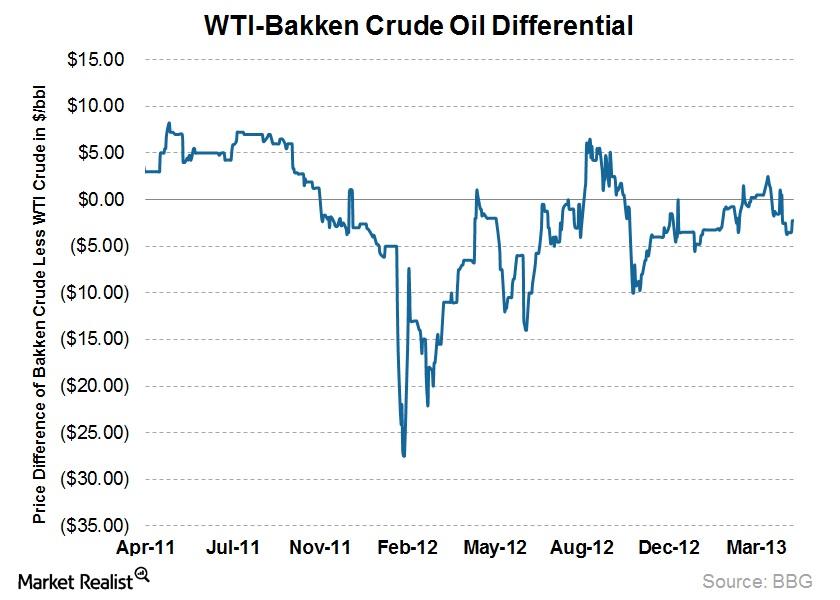 WTI-Bakken spread widened out last week, but still within $5/barrel range
By Ingrid Pan

Oct. 29 2019, Updated 1:30 p.m. ET
A huge surge in oil production in North Dakota has caused differentials between Bakken crude and WTI crude to fluctuate and blow out at several points over the past several years as takeaway structure had lagged production.
Recently, the differential between Bakken and WTI crudes has stabilized and closed in and a newly finished infrastructure has come online. Bakken differentials to WTI had generally remained below $2.00/barrel since March, signaling sufficient takeaway capacity from the basin. Additionally, usage of rails rather than pipelines into Cushing has allowed Bakken crude to reach refining markets without having to pass through a crowded hub.
However, last week the spread widened by $1.00, and Bakken crude closed $3.50/barrel under WTI last Friday, April 26th.
More stable Bakken based crude prices and a lowered risk of the differential blowing out to ~$20+/barrel again is a positive for producers operating in the region.
Last week, the spread between Bakken crude and WTI crude widened by $1.00/barrel as one of the destinations for Bakken crude, a refinery owned by Calumet Specialty Products Partners, began maintenance that is set to last three weeks. While it is undergoing maintenance, the ultimate demand for Bakken crude declines, and, therefore, prices are prone to decline. Though the spread widened, it still closed Friday relatively tight at a level of $3.50/barrel.
Over the past several years, oil production in the Bakken Shale/Williston Basin in North Dakota has increased rapidly. For example, production in February 2013 reached 715,150 barrels per day compared to 494,630 barrels per day in February 2012 and 280,670 barrels per day in February 2011.
Article continues below advertisement
With the surge in oil production came a huge need for oil takeaway infrastructure; however, the completion of infrastructure had struggled to keep up with the growth in production. This caused the price of Bakken crude to lag significantly behind WTI crude at some points over the past few years. Notably, in early 2012, the differential increased to as much as $27.50/barrel.
However, the spread has closed in dramatically since then as companies have successfully found other ways, such as rails, to transport crude out of the area. According to an article by the U.S. Energy Information Administration, "Pipelines are the most cost-effective way to transport crude oil in the United States, but they are expensive to build and may face regulatory hurdles. For these reasons, companies have turned to rail transport to delivery crude oil across the nation." The surge in Bakken production demanded a quick and efficient takeaway solution, so rail capacity out of the area has greatly increased, and this addition of infrastructure in the region has allowed Bakken crude to reach refining markets on the East Coast, West Coast, and Gulf Coast.
For example, during Continental Resources' (a major Bakken operator) 4Q12 earnings call management noted, "… a fundamental change occurred in the (Williston) Basin with the emergence of multiple true rail markets, new loading facilities across the play, and the proliferation of offloading facilities at end user refineries on all three coasts. Logistical bottlenecks created market opportunities, allowing rail capacity to grow and become the primary mode of shipment out of Bakken… Now that capacity exceeds production and competitive markets are enabled, Continental has increased rail utilization and has access to refineries and markets throughout the US… During the year, we grew rail shipments to 72% of our Bakken oil in December from a starting point of 46% in January. As an industry, we're displacing high-priced foreign crude on all three coasts, and by switching to low sulfur Bakken crude, refineries can potentially help meet stricter clean air standards… With the expected reduced volatility and now improved visibility and access to… infrastructure, we are narrowing and lowering our 2013 guidance range for differentials to $5-7 off WTI. This represents a 37% improvement on our previous estimates."
As Continental noted, capacity is keeping pace with production, and the company recently changed guidance for its realized oil prices to be closer to WTI. Note that not all of Continental's production comes from the Bakken, so its differential guidance represents the price realized on the oil production for the entire company.
Increased infrastructure has allowed for differentials to close and stabilize, and has even spurred major Bakken operators, such as Continental Resources (CLR), to change guidance on its realized differentials to be closer to WTI. These developments are medium-term positive catalysts for other operators in the region, such as Hess Corp (HES), Kodiak Oil & Gas (KOG), and XTO Energy (part of Exxon Mobil, XOM). In the short-term, last week the spread widened by a $1.00/barrel as news sources stated that Calumet Specialty Products Partners (CLMT) was performing maintenance on its Superior, Wisconsin refinery (which is a destination for Bakken crude) that was planned to last three weeks. This is a short-term negative for Bakken crude and producers with operations in the Bakken region. Note that many names with Bakken exposure are also part of the Vanguard Energy ETF (VDE).