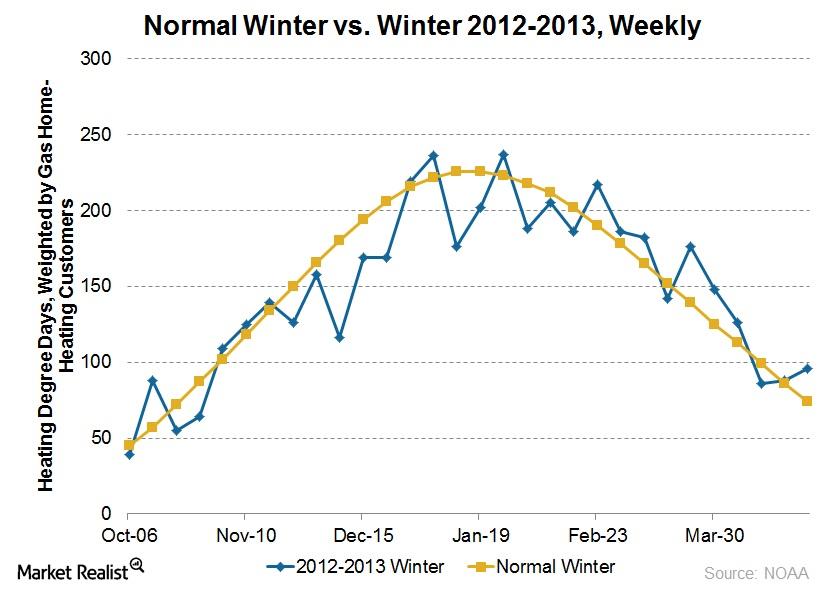 Natural gas producers declining due to expected warm weather
By Ingrid Pan

Dec. 4 2020, Updated 10:52 a.m. ET
For the week ended April 27, temperatures nationwide were colder than normal. Nat gas had a strong rally the week ended April 20, perhaps already in anticipation of the colder temperatures. However, prices fell last week in the face of colder than normal weather. Some news sources noted that the price decrease may have been due to the approach of the end of the winter heating season and expected warmer temperatures.
Expectations of colder weather can boost prices as natural gas is a major fuel source for home heating. Prior to last week, natural gas prices had generally rallied since mid-February due to a long spell of lower than normal temperatures.
Higher natural gas prices increase the revenues and earnings of natural gas producers.
Natural gas prices are especially affected during the winter as many households use natural gas for home heating. Warmer weather translates into less natural gas demand and therefore lower prices. Conversely, colder weather translates into more natural gas demand and higher prices. Natural gas prices affect the earnings of major domestic natural gas producers such as Chesapeake Energy (CHK), Range Resources (RRC), Quicksilver Resources (KWK), and Southwestern Energy (SWN). Additionally, many of these companies are part of the energy ETFs such as the Vanguard Energy ETF (VDE).
Article continues below advertisement
For the week ending April 27, heating degree days (as weighted by gas home-heating customers) for the US totaled 96 versus the normal figure for corresponding weeks past of 74. Heating degree days (HDD) are a measure of how much colder than room temperature the weather is, and the greater the HDD figure, the colder it is. This week's HDD figure was higher than normal, meaning weather was colder than normal which implies more natural gas demand and therefore higher natural gas prices. However, natural gas prices closed at $4.15/MMBtu (millions of British thermal units) on April 26, ending an extended rally that began in mid-February when prices bottomed out at $3.15/MMBtu before reaching highs of ~$4.40/MMBtu in mid-April. Expectations of colder weather may have been built into the rally in natural gas prices the prior week, as prices climbed ~$0.19/MMBtu for the week ended April 19. Last week's price declines could have been in anticipation of warmer weather to come as some news sources reported.
This week was colder than normal and eight out of ten of the prior weeks were also colder than normal. The winter as a whole thus far has generally been warmer than normal which muted natural gas earlier in the season, however, the recent colder than normal weather has resulted in this heating season being close to normal as measured in heating degree days.
Theoretically, higher demand translates into higher natural gas prices, which affects the earnings and valuations of natural gas weighted producers. The below graph displays natural gas prices over time versus the stock prices of CHK and KWK, two producers whose production is currently weighted towards natural gas. Over the past few years, the equity prices of these companies have trended with natural gas prices.
Investors with holdings in natural gas weighted producers (such as CHK, KWK, RRC, and SWN) or a natural gas ETF such as UNG may find it prudent to be aware of weather as an indicator of natural gas demand and therefore price. As stated, for the past eight out of ten weeks temperatures have been colder than normal and this has resulted in a positive medium-term catalyst for nat gas. However, note that prices declined last week, perhaps in anticipation of warmer weather.