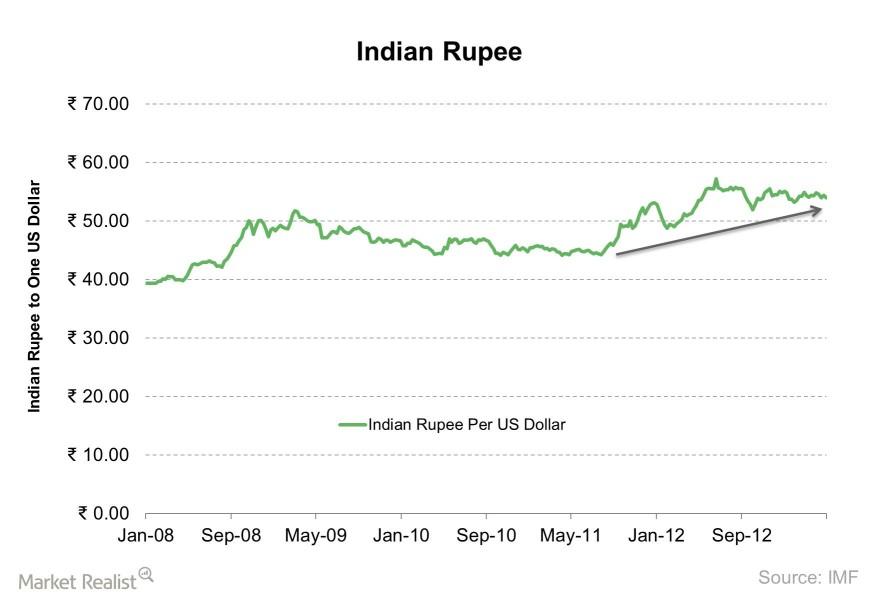 Weaker rupee lowered farmers' demand for potash in 2012, how about 2013?
By Xun Yao Chen

Nov. 20 2020, Updated 1:06 p.m. ET
Just like the U.S. dollar is a key influence to crop prices, the strength or weakness of the Indian currency, the rupee, has a significant impact on potash demand. As potash is traded globally, the standard currency for exchange is in U.S. dollars. When the Indian rupee weakens, it is often a negative for potash suppliers, because buyers in India will have to pay more in rupees to purchase the same quantity that is listed in dollars.
Deteriorating economic fundamentals cause rupee to weaken
Article continues below advertisement
Since May of 2011, the Indian rupee has followed an upward trend, rising from 45 rupees to 54 rupees a dollar. The uptrend reflects a depreciating, or weaker, rupee, which was driven by high inflation, high fiscal deficit and deteriorating economic fundamentals. As the country's prospects fell, foreign investors pulled money out of the country, lowering the demand for rupee. When demand for rupee falls, rupees will become cheaper compare to the U.S. dollar, which means one U.S. dollar can be exchanged for more rupees.
Potash most negatively affected
Because India imports all of its potash use, potash suppliers were most negatively affected.[1. A type of fertilizer that is used to enhance water retention of plants, increase crop yields and plants' disease resistance.] Unlike nitrogenous based fertilizers, farmers can also forgo application of potash fertilizers from time to time because they are not directly involved with plant growth, which gave them an additional incentive to purchase less potash. During the 12 months ending this April, imports for Muriate of Potash (MOP) fell 39% year-over-year, totaling just 2.4 million tonnes, which is down almost 50% compared to the seven-year Olympic average.[2. Olympic average excludes years that have exceptionally low or high data points.]
Effects on potash companies and agribusiness ETF
Article continues below advertisement
In 2012, weaker demand from India negatively impacted potash suppliers, such as Potash Corp. (POT), Mosaic Co. (MOS), and Agrium Inc. (AGU). The VanEck Vectors Agribusiness ETF (MOO) was also negatively affected, but not as much since the ETF invests in every stage of the agriculture industry. While farmers cannot forgo use of potash for a long period as it damages the soil causing recovery to become much more costly, the government's recent action to further cut subsidies for potash will limit revenue growth for the companies mentioned above this year (see India's subsidy cut for potash dampens optimism for demand recovery in 2013 for more info).
Plus, although the country's most widely followed wholesales inflation has fallen, inflation rates for consumer goods remains high, which may restrict the central bank's ability to lower interest rates to stimulate economic growth. If poor economic growth and high inflation persists, the rupee may depreciate even further based on the basic economic principal of purchasing power parity.