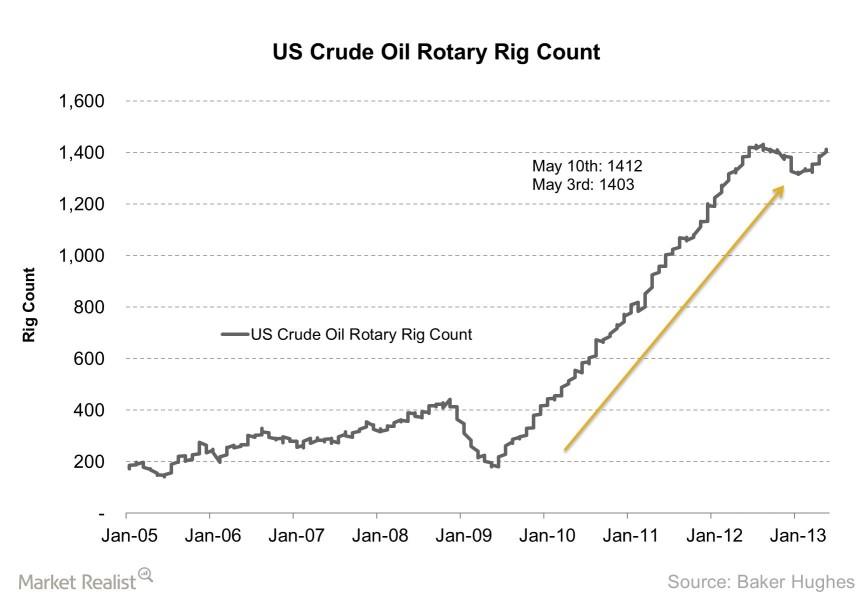 US oil production expected to hit record in 2013, negative for tankers
By Xun Yao Chen

Nov. 20 2020, Updated 3:13 p.m. ET
US oil rig count is a leading indicator of US oil production and oil imports. Since 2008, a boom in US oil industry has negatively impacted demand for tankers (see Tankers will likely underperform dry bulk ships in 2013)— vessels that transport oil across ocean. Higher US oil production, due to application of technologies called hydraulic fracturing and horizontal drilling, has made it possible and more efficient to extract oil from the US soil. While shipping rates have fallen due to excess supply, transporting oil from OPEC (Organization of the Petroleum Exporting Countries) costs more than using domestic oil due to proximity. Thus, rising US oil rig counts often suggests negative outlook for tanker firms such as Teekay Tankers Ltd. (TNK), Tsakos Energy Navigation Ltd. (TNP), Nordic American Tanker Ltd. (NAT) and Scorpio Tankers Inc. (STNG).
Rising number of oil rigs
Article continues below advertisement
On May 10th of 2013, the number of rotatory rigs targeting oil in the US rose to 1,412 from 1,403 the week earlier, suggesting oil companies are continuing their focus on finding oil in the United States. Rotatory rigs use rotating drills to dig into the Earth's crust to find oil and to create wells that are used to extract oil from the ground. As higher drilling activity often foreshadows higher oil production in the future, higher drilling activity foreshadows lower US demand for imported oil, which is negative for tankers because US is the largest importer of crude oil, importing 7.3 million barrels of oil a day on February 2013, according to the DOE (Department of Energy).
Drilling foreshadows oil production
While 2009 was the year US production began to grew rapidly, drilling had started several years earlier. Thus, a sustained increase in US active rotatory rigs likely points to falling US imports over the next few years — the IEA (International Energy Agency) estimates US will surpass Saudi Arabia as the largest supplier of oil by 2020.[1.Saudi Arabia currently supplies about nine million barrels of oil a day.] Tanker companies such as TNK, TNP, NAT and STNG will likely face headwinds on the expectation that US oil output will continue to rise in 2013. The Guggenheim Shipping ETF (SEA), which invests in several large shipping companies, will inevitably be negatively affected as well. However, since demand for the dry bulk shipping industry is expected to be much stronger and supply fundamentals are improving (see Current positive data shows supply to grow below 7% in 2013) the negative impact on the ETF may be restricted.