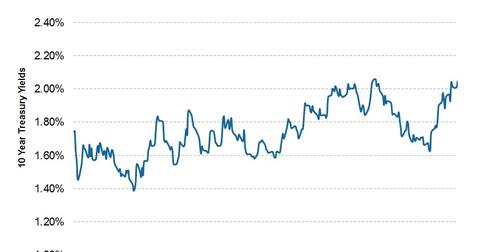 10-year Treasury yields continue to back out, MLP names could be hurt if trend continues
By Ingrid Pan

Updated
Last week, the yield on the 10-year U.S. Treasury increased by 6 bps from 1.95% to 2.01%. Yields increased as the market speculated that the Federal Reserve could soon scale back or end its current bond buying program, which pumps money into the financial system and keeps interests rates low.
Despite the week's increase in yields, interest rates have been at record lows for roughly the past two years, which has been a long-term boon for MLP stocks.
Treasury yields matter because MLPs can be rate-sensitive instruments and an increase in Treasury yields could push investors to require more yield out of riskier investments, such as MLPs.
Investors who hold master limited partnership (MLP) stocks often monitor interest rates on Treasury bonds. This is because many investors hold MLP stocks for the distribution, or "yield," component of the securities. U.S. government Treasury yields are relevant because if rates on the bonds increase, investors should expect rates on MLPs to theoretically increase as well. This is because many view U.S. Treasuries as one of the safest yielding investments in the financial universe, and if the rates on Treasuries increase, the yield required from MLPs (and all other yield instruments) should also theoretically increase. When the yield on MLPs increases, the price and valuation of MLPs decreases.
Article continues below advertisement
Additionally, when yields on instruments such as Treasuries decrease, it also pushes investors seeking current income into other instruments, such as corporate bonds and MLPs. Therefore, as Treasury yields decrease, yields across the bond sector and higher dividend stocks, such as MLPs, also tend to decrease.
The yield on the benchmark 10-year Treasury continued to increase last week as it rose from 1.95% to 2.01% for the week ended May 24th. This marks the fourth week in a row that the yield on the 10-year Treasury has increased. Yields had generally compressed since mid-March when the 10-year was trading around ~2% to lows of 1.65% until increasing again to current levels of ~2%.
In the context of a longer time period, Treasury yields remain close to all-time lows. The below graph shows historic yields on the 10-year Treasury from the beginning of 2001 to present.
One can see that only in the past few years has the 10-year Treasury yielded at or below 2% (it currently trades around 2% yield). This is mostly a consequence of the Federal Reserve pumping money and liquidity into the financial system. The below graph shows the yields on the Alerian MLP Index versus 10-year Treasury yields.
Except for the period of the financial crisis, where investors pulled money out of riskier investments, such as equities (which MLPs are), and poured it into cash and Treasuries, MLP yields have often moved directionally the same as Treasury yields.
Over the past several weeks, the yields on Treasury instruments have increased, resulting in a negative medium-term catalyst for the rate-sensitive MLP sector. However, from a longer-term perspective rates remain near all-time lows which has resulted in a long-term positive for MLPs. If rates eventually rise, for example, to pre-recession levels of 4-5%, it could be a negative for MLPs and the Alerian MLP Index (AMLP). Major names in the index include Enterprise Products Partners (EPD), Kinder Morgan Energy Partners (KMP), Magellan Midstream Partners (MMP), and Plains All American Pipeline (PAA). Therefore, owners of MLPs should be aware of rate movements and how they affect MLPs.