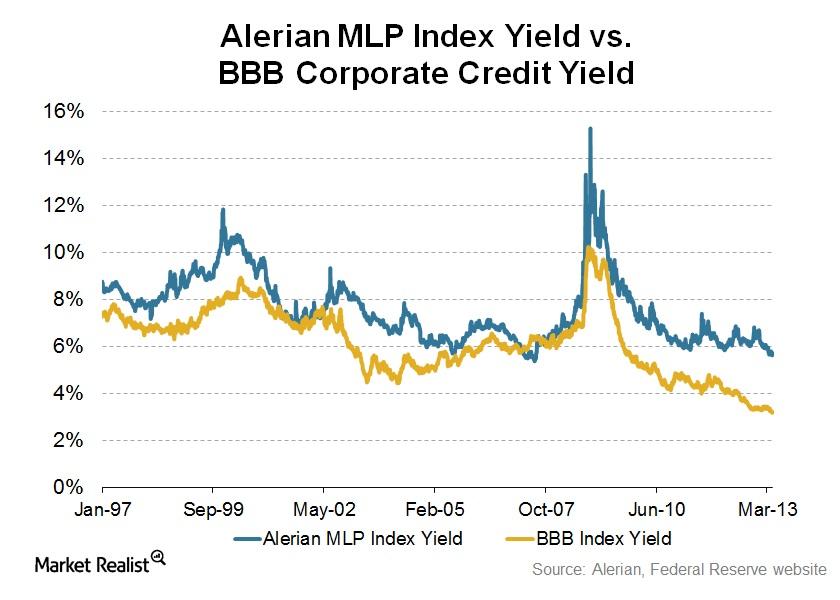 Spread between MLP yields and corp credit widened 9 bps last week
By Ingrid Pan

Oct. 29 2019, Updated 1:17 p.m. ET
Master limited partnerships are often compared to other yield vehicles such as corporate bonds due to their distribution feature.
The yield on the Alerian MLP Index (AMLP) is currently significantly wider than the yield on the BBB corporate credit index, and also wider than the 10 year average spread between the two indices.
The spread between the AMLP and BBB corporate credit indices widened by 9 bps for the week ended April 26, therefore the relative value gap between the two asset classes increased. The spread remains wide relative to historical levels.
The relative value of master limited partnerships (MLPs) is often compared to other yield vehicles such as corporate bonds. This is because MLPs pay out a quarterly distribution, and one of the main investment points of MLPs is the income generated from owning them. Currently the Alerian MLP Index, a capitalization-weighted composite of 50 energy master limited partnerships, is trading 254 basis points (or 2.54%) wide of the BofAML BBB corporate credit index (an index which is meant to represent the universe of bonds that are rated BBB). Note that there is an ETF which tracks the Alerian MLP Index which is called the Alerian MLP ETF (AMLP). The top chart shows the historic yields of the two indices. Additionally, as seen in the below chart, the difference in yields between MLPs and corporate credit is significantly wider than the 10-year average spread.
Article continues below advertisement
One reason for this is that the Federal Reserve has pumped money through the financial system in an effort to keep lending rates low, and many investors looking for yield have put their dollars to work in corporate credits, driving yields lower and lower. Demand for corporate credit has left other yield asset classes, such as MLPs, look relatively undervalued. However, investors should note that despite the yield aspect of MLPs, they are indeed equities, which are inherently more volatile than debt.
Some market participants have speculated that since corporate rates are near historic lows and cannot go much lower, that now could be an opportune moment to rotate into equities and out of corporate debt if one has a long term holding period, especially as equity has upside potential from growth that debt does not. In such an environment, MLPs such as the Kinder Morgan Energy Partners (KMP), Enterprise Products Partners (EPD), Targa Resources (NGLS), and MarkWest Energy (MWE) may outperform BBB corporate credit.
From a shorter term perspective, the spread between MLPs and BBB credit widened by 9 bps last week, increasing the relative value opportunity between the two asset classes. Most market participants expect corporate credit rates to remain relatively low in the near future, which could play out into a persistently wide spread as long as rates remain low. Investors considering playing the spread between corporate credit and MLPs should therefore consider their individual holding periods and the difference in expectations across different time horizons for this particular strategy.