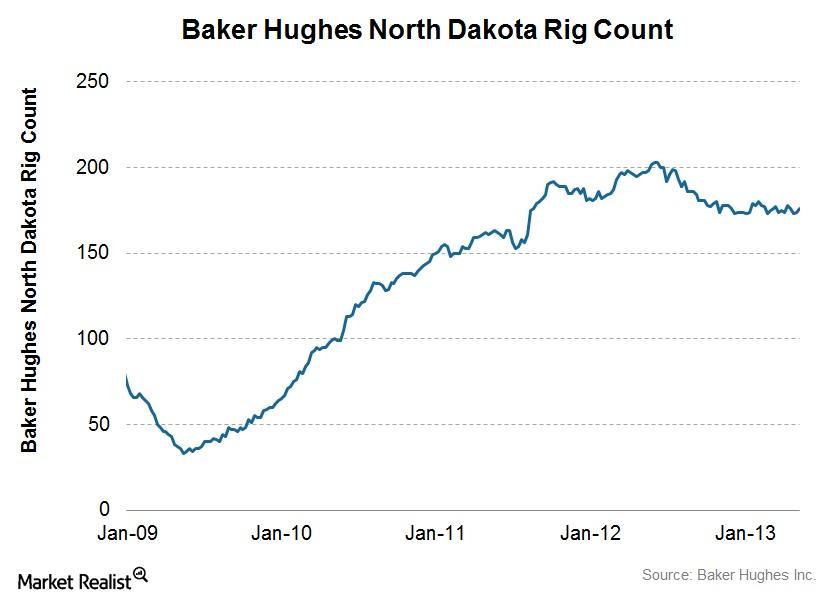 Record Bakken production benefits MLPs in the area
By Ingrid Pan

Oct. 29 2019, Updated 1:13 p.m. ET
Oil production in the Bakken shale resource in North Dakota has been growing rapidly over the past several years and is one of the engines of U.S. oil growth.
Midstream companies with assets in the area are well-positioned to benefit from continued growth.
In March, oil production in North Dakota grew 0.5% month-over-month and 39.6% year-over-year, with the continued growth a positive signal for Bakken exposed MLPs (though the rate decelerated compared to February).
Oil production in the Bakken Shale in North Dakota has grown exponentially over the past few years. This surge in activity has led to a huge demand in oil storage and takeaway capacity, which positively positions certain midstream names if Bakken activity continues thusly. Likewise, if a slowdown occurs, it would be a negative for these names. Such names include (but are not limited to) Targa Resources (NGLS), Plains All American Pipeline (PAA), Enbridge Energy Partners (EEP), and Inergy Midstream (NRGM).
Article continues below advertisement
One indicator to watch for activity in the Bakken (and, therefore, an upside for midstream names in the region) is the North Dakota rig count reported by oil field service company Baker Hughes. The above graph shows rig counts in North Dakota from January 2009 to present. One can see that over the past few years, activity in North Dakota has risen substantially. From mid to late 2012, there had been a drop off in rig counts possibly due to a rout in crude prices in 2Q12, producer efficiency in the area (resulting in the same amount of oil produced with legs rigs), and possible concerns over issues such as rising costs in the area. However, the rig count looks to have leveled out, possibly due to stabilization in crude prices and success operators have had in controlling costs and finding the optimal rig count for the time being (for more on this see Well costs for Bakken producers beginning to abate?).
Another indicator to watch is North Dakota crude oil production (as shown in the graph below). One can see that production has likewise risen rapidly over the last several years. The last reported month (March 2013) showed a ~0.5% increase month-over-month and a ~39.6% increase year-over-year, showing continued growth (though the pace has decelerated from February 2013, see MLPs in Bakken benefit from continued strong production increases in the area). Most market players expect the Bakken to continue to grow. In a presentation by Targa Resources (NGLS), the company states that total North Dakota Bakken production is expected to increase by 60% or more over the next five years.
Article continues below advertisement
Rising oil production means more oil for midstream companies to store and transport, and, therefore, growth opportunities for these companies. Some companies with major assets there include Targa, which in November 2012 acquired certain assets in the Bakken region for $950 million. The assets include a crude oil pipeline and terminal system, and natural gas gathering and processing operations. Targa notes in a presentation that this system is supported almost entirely by fee-based contracts, which means that the more volume that flows through its system, the more revenue it stands to gain.
Additionally, another company investing in Bakken infrastructure is Enbridge Energy Partners (EEP). Enbridge is currently working a $6.2 billion initiative called the Light Oil Market Access Program, which is comprised of several projects. The aim of the program is to provide transportation of ~400,000 barrels per day of oil from growing regions, such as the Bakken and Canada, to refineries in Ontario and the U.S. Midwest. Specifically in the Bakken, Enbridge will construct a 600 mile pipeline from North Dakota to a terminal in Superior, Wisconsin, which will increase Bakken takeaway capacity by 225,000 barrels per day at an estimated cost of $2.5 billion. Current projections of production growth in the Bakken supports EEP's project, and continued growth there is positive for the company. However, if Bakken production should fall short of expectations for some reason, this would negatively affect the returns on EEP's project.
This expectation of years long growth in Bakken activity is a long-term positive for midstream players holding assets in the area, such as NGLS and EEP, as mentioned above. Some other examples of companies (note: this list is not all-inclusive) with major assets there include Inergy Midstream (NRGM), which in November bought $425 million of assets in the area. Additionally, Plains All American Pipeline (PAA) announced in December that it would buy four rail terminals for $500 million, including one in the Bakken due to a large amount of oil moving by rail given the huge increase in production there. Therefore, investors holding names with assets in the Bakken may find North Dakota rig counts and production relevant figures to track. Many of these MLPs with assets in the Bakken area are also part of the Alerian MLP ETF (AMLP), an ETF which tracks a capitalization-weighted index of 50 energy MLPs.