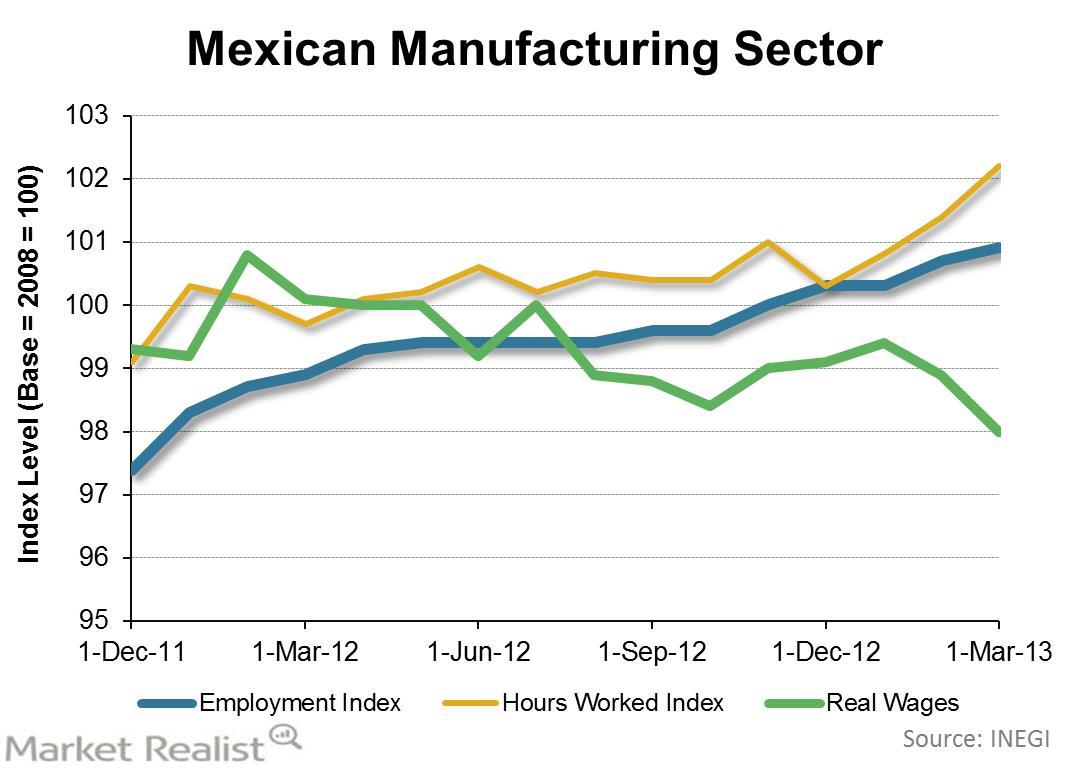 Mexican manufacturing employment up, but wages suffer from inflation
By Dale A. Norton, ME

Nov. 20 2020, Updated 2:47 p.m. ET
The employment figures for March's manufacturing indicators showed increases in employment, but real wages dropped significantly.
The manufacturing sector in Mexico plays an important role in the economy, and while it accounts for approximately a fifth of GDP, its sensitivity to consumer demand makes it a good gauge of the overall health of the country.
The April PMI left investors with a sour taste, and this means the current data, while lagging, helps to understand the dynamics of the sector.
The March manufacturing indicators released by the Mexican Institute for Statistics and Geography (INEGI) showed an uptick in both employment and hours worked, yet a steep decline in real wages in the sector.
Employment led by auto sector
The majority of the boost came from the auto suppliers (+8%), electronics (+6%), and plastic and rubber (+4%) sub-sectors, all of which hinge on the health of the demand within the U.S. market.
The auto sector in the U.S. jumped after Q1 earnings seasons, which is one of the main drivers why the employment picked up significantly in the Mexican auto sector. This was also reflected by a strong spike in the Chinese demand for automobiles.
The sub-sectors posting the main drops were chemicals and print related, both of which fell 4%.
Currency strength despite inflation
The decline in real wages is likely driven by the high level of inflation the country has experienced in recent months. This has eroded both consumer spending power and companies' ability to maintain real wages level. These had a clear effect in consumer spending, as reflected by retail sales.
Despite the inflation within the country, the Mexican Peso itself has gained strength in recent months. Over the early weeks of May, though, the currency has finally shown some weakness and is depreciating again.
Outlook
Given inflation increased further in April, the data for next month may show a further decrease in wages. It is unclear, though, if companies in the sector are ready to adjust wages.
Article continues below advertisement
While the rise in working hours and employment levels are positive, the real wages will continue to put downward pressure on consumer spending. Approximately two thirds of Mexico's GDP is composed of private consumption, hence the wages factor is more important than the improvement in the other two sector specific variables.
A near-term catalyst, currently absent, will be needed to change the ambiguous outlook on the Mexican stock market. Macro indicators are negative, but a spike in the U.S. market could move the market up, so for now we should just wait and see.