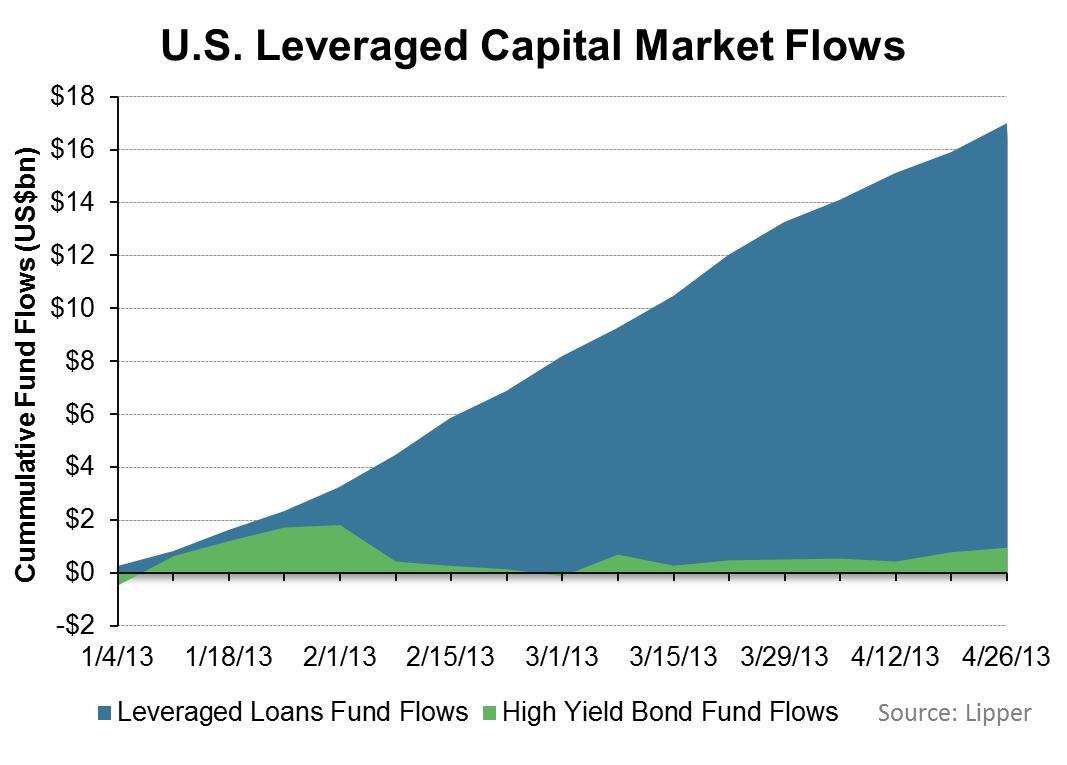 Leveraged loan ETFs received largest weekly inflow year to date
By Dale A. Norton

Nov. 27 2019, Updated 6:07 a.m. ET
Data from Lipper showed that 1/3 of the $1.1 billion inflows last week were into ETFs
Fund flows are important gauges of investor interest in an asset class. A common measure is the weekly fund flows into mutual funds and ETFs. Recently, the interest in leveraged loan ETFs has increased significantly, which means these funds have been flooded with new funds. This helps the liquidity of these ETFs (e.g. SNLN, BKLN), which are generally not very liquid.
Article continues below advertisement
Fund flows for the week ended April 24th bounced back above the $1 billion mark after having decreased for the first time in 12 weeks below $800 million. This now marks the 45th consecutive week of positive inflows for leveraged loans, which have amassed a total close to $25 billion. Inflows year to date are close to $17 billion, which dwarf the $1.2 billion inflow for the same period in 2012.
Of the $1.1 billion last week, $354 million were destined to ETFs, which is the largest weekly inflow since the end of October. At total of $2.2 billion has flowed into leveraged loan ETFs year to date, eight times more than for the same period in 2012.
Implications
These heavy inflows point to an on-going demand for loans which should sustain prices, at least in the short-term. An advantage of leveraged loan ETFs versus high yield bond ETFs is that they do not have the same interest rate sensitivity since their interest payments are floating[1. Adjusted periodically based on a benchmark, usually LIBOR.].
High yield bonds, on the other hand, pay a fixed coupon, hence, their value drops when interest rates rise, meaning that bond prices are likely to fall in the medium-term as expectations of a phasing out of quantitative easing is built into the market prices.