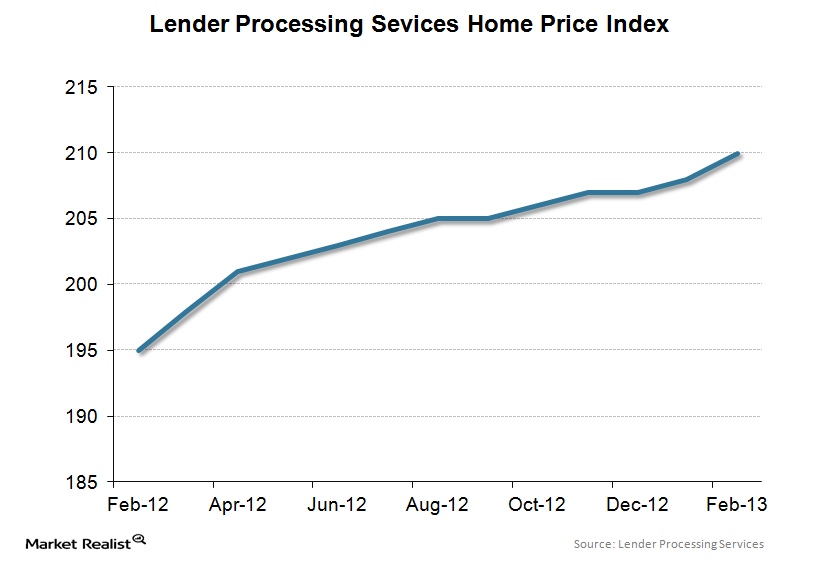 Lender Processing Services Home Price Index increases 1% in February
By Brent Nyitray, CFA, MBA

Oct. 29 2019, Updated 12:52 p.m. ET
The Lender Processing Services Home Price index is the price of a "representative" home in the United States
Lender Processing Services (LPS) is a major provider of data and analytics to mortgage industry professionals. As such, LPS has access to a wide variety of foreclosure data, delinquency data, prepayment data, and local real estate markets. LPS's servicing software is used to service approximately 50% of all US mortgages by dollar volume. This gives them insight into the housing market that the government doesn't have.
Article continues below advertisement
The LPS Home Price Index uses a repeat-sale methodology, which means it compares the sale price of a home with its previous sale price and uses this data to increase or decrease the index. One feature of the LPS index is that it corrects for foreclosure and short sale discounts. Also, unlike other home price indices, the number of the index actually means something – it is the value of a representative home (in thousands of dollars).
The LPS Index shows that home prices bottomed in February of 2012
U.S. Home prices increased 1.0% in February, and are up 7.3% year-over-year. The price of a representative home in the US rose to $210,000. As we have seen elsewhere, the home prices are concentrated in the West – the biggest monthly gains were San Jose, CA (+3.2%), San Francisco (2.8%), Vallejo CA (2.6%), Seattle (2.5%) and San Diego (2.4%). The laggards were all in CT: Hartford (-.4%), Norwich (-.2%), New Haven (-.2%), Bridgeport (-.2%) and Torrington (-.2%).
Implications for the home builders
Article continues below advertisement
Increasing home prices is definitely good news for the homebuilders, which have been hamstrung by weak demand and weak expectations for a long time. Increasing prices not only increase confidence, but they allow homeowners to recoup negative equity, which gives them the ability to move. This will increase transactions, which will help unfreeze the market.
The home builders have been so depressed for so long, that any improvement, no matter how small, will have an out-sized effect on their results. Low household formation numbers have not been based on demographics, they have been the result of a difficult job market for new graduates. This represents pent-up demand and it will eventually become released: even in difficult economic times, people still get married, have kids, and leave home or the roommates. Housing starts have been at severely depressed levels since 2008.
So far, the first quarter earnings of the homebuilders have been good on average. There is a bit of a geographical story going on – the builders with exposure to the West Coast have fared better than the ones that are East Coast based. So far, we have heard from NVR, PulteGroup (PHM) D.R Horton (DHI), Meritage (MTH), and Ryland (RYL). Reston VA based NVR reported the smallest gains in sales due to its East Coast focus. The Homebuilder ETF (XHB) has been making new highs after these earnings releases.