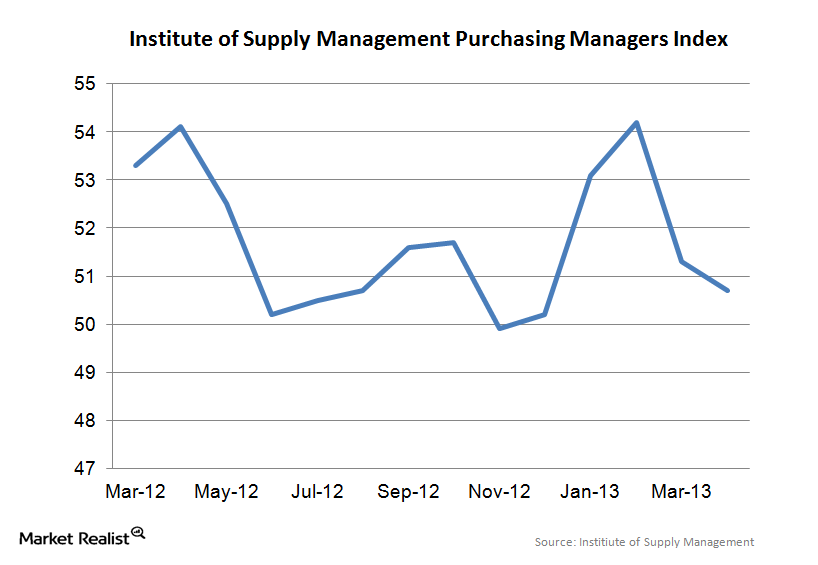 Institute of Supply Management's Purchasing Managers Index falls in April
By Brent Nyitray, CFA, MBA

Nov. 20 2020, Updated 12:43 p.m. ET
The Institute of Supply Management index assesses the state of manufacturing in the United States.
The Institute of Supply Management (ISM) Purchasing Manager's Index (PMI) is similar to the other regional PMI indices, however it covers the entire country. The ISM PMI looks at various business indices like new orders, production, employment, supplier deliveries, inventory, customer inventories, prices, backlog, exports and imports, and capital expenditures. A reading over 50 means that manufacturing is generally expanding.
Manufacturing activity eased somewhat in April and the outlook became more cloudy
Article continues below advertisement
The index of overall activity fell in April for the second consecutive month and but is still in expansionary territory. Employment and prices drove the decline, possibly due to lowered government spending. New orders increased while inventories fell. Falling inventories is a sign of caution. Backlog increased for the third consecutive month, after 10 months of contraction. Many participants noted that raw material pricing was increasing, while finished goods pricing was not, indicating margins are narrowing.
Implications for the homebuilders
Overall, the report shows the economy stuck in neutral. The drop in employment is certainly discouraging, although many are pointing to the sequester as the reason for the drop. If so, then the effect is going to be concentrated in Q2 and then dissipate. The tone of the report is generally neutral; the companies that do business with Washington appeared to be struggling the most, while the rest seemed to indicate that business is improving ever so slightly.
Article continues below advertisement
Overall increases in business activity and the consumption is starting to drive more business for home builders, like Lennar (LEN), KB Homes (KBH), Toll Brothers (TOL), and NVR. Housing starts have been so low for so long that there is some real pent-up demand that will become unleashed as the economy improves. This can create a virtuous circle in the economy as increasing demand raises prices, which re-ignites the wealth effect and increases consumption. The secular story for the homebuilders is optimistic – household formation numbers will be a real wind at their backs.
On the other hand, the shortage of skilled workers could negatively affect margins as business expands. In fact, the ISM Survey noted manufacturers were seeing higher raw material pricing, without a corresponding increase in finished good pricing. So the homebuilders could face rising material and labor costs. Cost pressures and lack of available land inventory are starting to affect numbers. After such a large increase in the home builder ETF (XHB) over the past year, home builders could be due for a pullback.