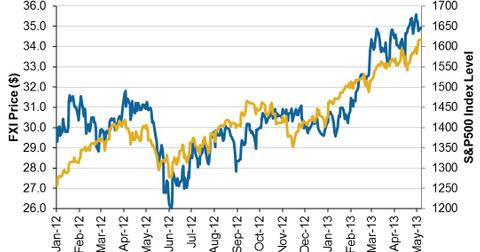 Indonesia's slower than expected GDP haunted by government inaction
By Dale A. Norton, ME

Nov. 27 2019, Updated 6:10 a.m. ET
The last quarter grew at 1.4%, but consensus expected 1.5%
Gross domestic product growth is the most telling metric of economic performance. Governments usually release data on a quarterly basis while analysts and economists wait anxiously for the data to compare against their own projections. The GDP forecast underpins many projections across the economy, from company valuation and demand forecast to government spending and policy.
Article continues below advertisement
Indonesia had a slow fourth quarter in 2012, dropping 1.45%, though the Q4 drops are a seasonal pattern that occurs every year after maximum growth in the third quarter. Economists were expecting a 1.5% which would be just over Q1 of 2012 given the improved macroeconomic indicators signaling a healthy expansion.
On an annualized basis, the GDP figures came in at 6.0% year-over-year growth vs. 6.1% for the previous quarter. In seasonally adjusted terms, this represents zero growth for the quarter.
Growth disappoints
Consumption and investment growth was offset by lower government spending and reduced exports. Additionally, the mining services also slowed down. The drop in the annualized rate is more evident when looking at these components separately:
Private consumption grew 5.2% year-over-year

Investment grew 5.9% year-over-year
Mining contracted 0.4% year-over-year
Government spending grew just 0.4% year-over-year.
Nomura economist Euben Paracuelles said:
"They could grow much more if they had some spending on infrastructure and a few other reform measures."
Indeed, the government spending has not caught up with the drop in exports due to the regional slowdown (spearheaded by China due to a weakened Europe and U.S.).
Implications
The government target of 6.5% will likely be reduced to 6.3%, which, while small, will have larger implications in valuations models.
Additonally, the central bank will be meeting mid-month to decide on interest rates; given the sluggish growth, it may be the case that interest rates will be held at their record low 5.75% level, instead of the previously expected slow increase.
Fortunately, inflation has dropped slightly and is now at 5.6%, though that is still quite elevated to allow the government to cut rates to boost growth.
It is also likely that the government will have to continue the fuel subsidy to keep inflation low and growth alive, though this is hurting investment since the cost to the government has weakened the Indonesian rupiah.
Several analysts forecast a short term bounce in Q2, though the biggest unknown that will define growth for the rest of the year is the government's action (or inaction) to the present situation.