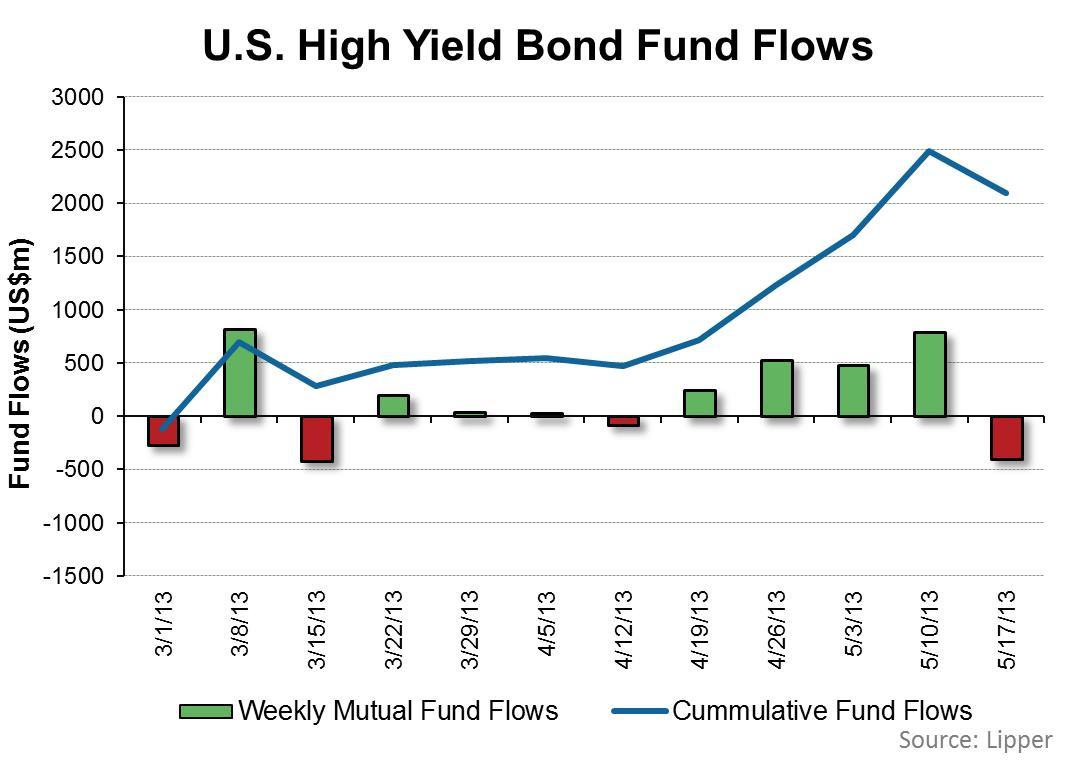 High yield fund flows stumble, demand side may be getting weak
By Dale A. Norton

Nov. 27 2019, Updated 6:13 a.m. ET
High yield bond flows for last week posted the first outflow in five weeks, possibly signaling weak investor confidence
Fund flows are the best indicator of investor demand in the high yield bond market. Naturally, an increase in investor demand is reflected in increased bond prices and lower yields.
When demand falters, issuance is diminished as well, along with the relative repricing effect that new issuances have in the market, reducing support for low yields and high bond prices.
Flows drop unexpectedly
Fund flows for the week ended May 17th dropped $403 million after four weeks of decently sized inflows. Year-to-date fund flows are now just below $1 billion, compared to the $20 billion inflows seen by the leveraged loans.
Article continues below advertisement
The uncertainty of the summer ahead, as well as continued strong returns in the equities market, has investors worrying about the inherent interest risk in high yield bonds. Interestingly enough, flows for leveraged loans dropped as well, which means perhaps investors are now more bullish about equities than debt.
The increased interest in equities was evident by the strong equities inflows observed by the equities markets, especially international markets, such as Japan and Russia.
Outlook
With the current strength in the U.S. equities market and seemingly growing interest in foreign equity markets, it is unlikely that the debt markets will regain strength until there is a strong negative catalyst to justify it. Uncertainty on the timing of increased interest rates and increasing recovery expectations increase the likelihood of an earlier termination of quantitative easing.
While this is just one data point, it is supported by action in the equities market as well as in the leverage loan market and is in line with an expected change of sentiment given the global recovery conditions. It is likely a matter of time before issuance starts to drop, which may be compounded by the seasonal drop in issuance observed during the summer months.