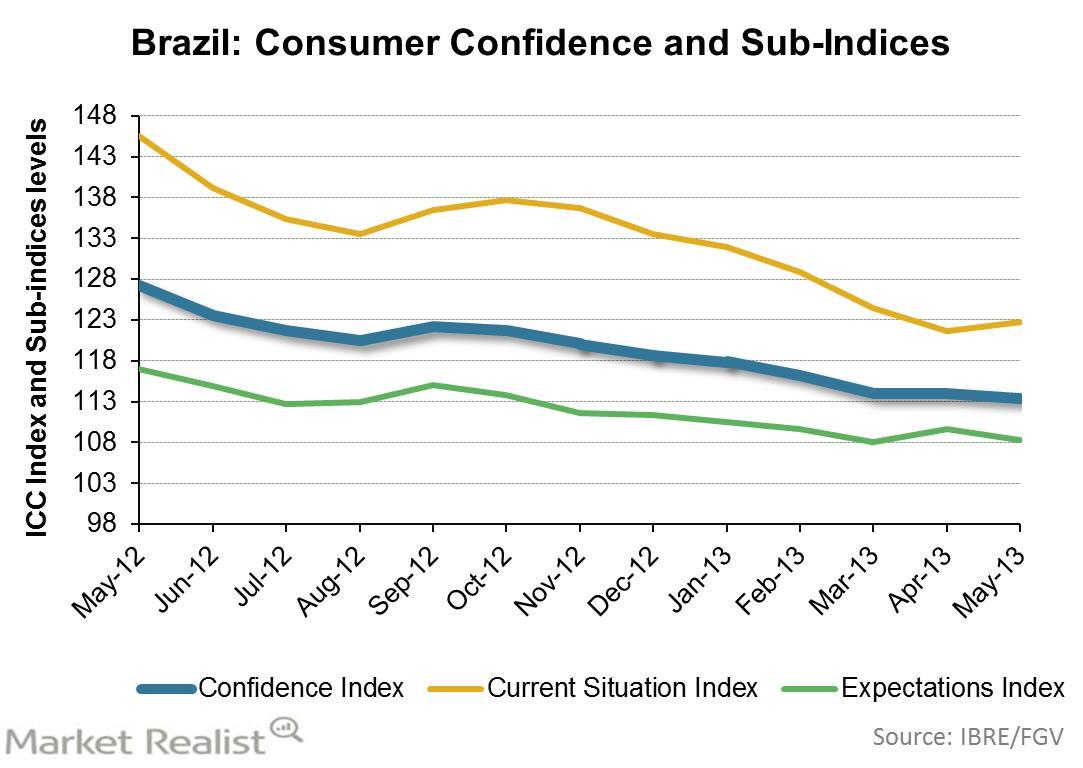 Brazil consumer confidence levels off after sustained decline
By Dale A. Norton, ME

Nov. 27 2019, Updated 6:10 a.m. ET
Consumer confidence in Brazil seems to have leveled off after several months of decline, showing that the current situation has improved.
The consumer confidence index, published by the IBRE in Brazil, posted a minimal decline of 0.4%. The value comes after six months of consecutive declines and a flat reading last month. The index is important to getting the perspective of the consumer, whose spending makes up ~60% of Brazilian GDP.
The Brazil Services PMI offered a glimpse of hope last month, and this means the consumer confidence survey is a good follow-up indicator.
Perception of current situation improves 
The headline index is divided into two sub-indices, one covering the current situation and one covering the outlook for the near-term. These two sub-indices offer insight into how conditions have changed and the perception of future changes.
The current situation index increased by 0.9%, reflecting the opinion of several households that financial conditions at home have improved relative to last year. However, at 122.7, the index remains below its five-year average of 127.5.
On the other hand, the future expectations index posted a 1.2% drop and is now right at the long-term average of 108.0. The families surveyed mentioned high concerns about food prices inflation and labor market conditions.
Outlook
While much of the concern revolved around inflation and labor market conditions, it seems that at least inflation may be slowing down. Additionally, if unemployment continues the decreasing trend versus previous years, then conditions may improve significantly over the summer.
Recently, the potential rebound in retail sales offered some additional hope for a turnaround in Brazil. The country remains our favorite pick among the BRIC countries in the near to medium-term.
Article continues below advertisement