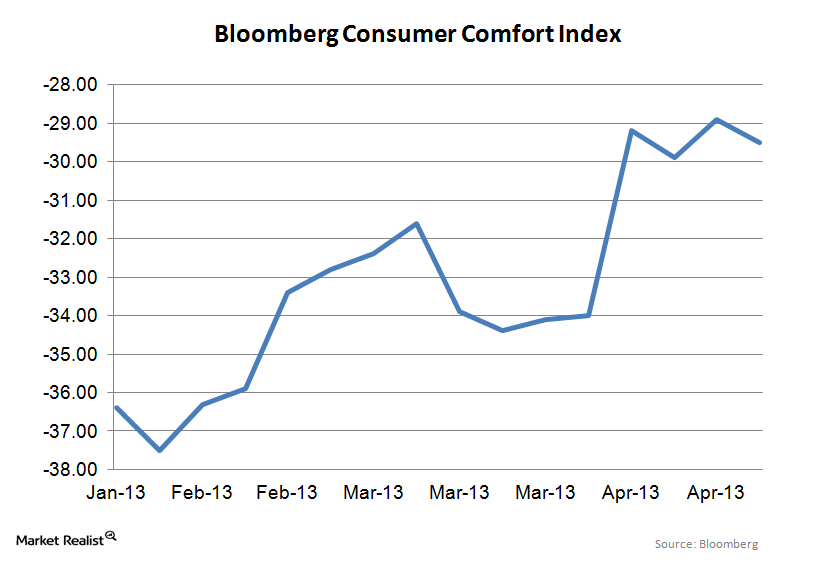 Bloomberg Consumer Comfort Index falls in the week ending May 5
By Brent Nyitray, CFA, MBA

Oct. 29 2019, Updated 12:18 p.m. ET
The Bloomberg Consumer Comfort Index fell to -29.5 for the week ending May 5th
The Bloomberg Consumer Comfort Index is a weekly sentiment index that covers three critical variables: the respondent's perception of the state of the economy, their evaluation of their personal finances, and whether it is a good time to purchase goods and services. It is a random sample of 1,000 people conducted through telephone interviews with relatively straightforward questions:  Is the state of the economy/personal finances/time to buy goods and services excellent, good, not so good, or poor? Since the index was started in 1985, it has averaged -16, so "neutrality" is not necessarily zero. The highest reading it ever had was +38 in early 2000. It bottomed at -54 in 2008.
The internals are improving
Article continues below advertisement
While the report is on balance negative (not surprising, given that the index itself is negative), the perceptions of the economy are highly negative (21% positive/79% negative), as well as the perception as to whether it is a good time to buy (34% positive/66% negative). As to personal finances, it fell back to 50/50. Overall, the various measures improved over the past week. So, when you ask consumers about the world around them, they tend to be more negative, whereas when asked about their own personal situation it is neutral.
It appears that the rebound in real estate prices is helping home owners, as the sentiment between owners and renters is rather large. Overall, it is surprising that the economic sentiment is so poor given that the S&P 500 is at record highs and real estate is appreciating at a high single digit pace. Perhaps this is driven by quantitative easing, and maybe there is a disconnect between the big multinationals and Main Street. While the index has only existed since 1985, it seems that it took quite a while to rebound from the '91-'92 recession as well. Perhaps sentiment is even more of a lagging indicator than unemployment.
Implications for home builders
Consumer sentiment is a critical factor in risk-taking. In spite of the negative sentiment, home builders have experienced quite the renaissance over the past year as the home builder ETF (XHB) has risen around 38%. Rising real estate prices seem to be driving increases in orders. As sentiment improves, renters will begin to become more comfortable with the idea of home ownership. Given the cost of renting is way higher than the cost of owning, a change in sentiment should cause a big spike in new orders. Housing starts have been highly depressed since the real estate collapse. Even a marginal increase in demand should drive home builders forward. Specific home builder stocks that will be positively affected by changes in consumer sentiment include KB Home (KBH), Lennar (LEN), NVR Homes (NVR), and Toll Brothers (TOL).