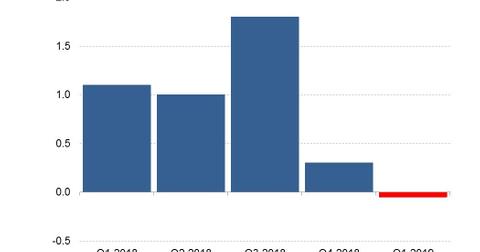 Baidu Is Rewarding Shareholders as Its Wallet Swells
By Neha Gupta

May. 24 2019, Published 9:06 a.m. ET
Baidu is sitting on a $21.4 billion cash reserve
As Baidu's (BIDU) bank account swells, the company wants to put more cash back into the pockets of its shareholders. It recently announced a new share repurchase program totaling $1.0 billion. The latest repurchase program is on top of the $1.0 billion repurchase program it announced last year, which it planned to have completed by the end of June 2019. Baidu is aiming to have completed the new repurchase program by July 2020.
The decision by Baidu to double its repurchase program in just one year comes at a time when the company's bank account has been swelling. Baidu exited the first quarter with $21.4 billion in its cash reserve compared to its cash reserve of $20.6 billion at the end of the fourth quarter.
Article continues below advertisement
China's technology giants line up billions for share repurchases
Baidu is just one of the major Chinese technology companies that have lined up billions of dollars to return to shareholders. Alibaba (BABA) has lined up $6.0 billion for a two-year repurchase program, and in December, JD.com (JD) announced a $1.0 billion repurchase program that it planned to complete in one year. On its part, Tencent (TCEHY) is planning to repurchase up to 10% of its outstanding shares, which would result in the company putting billions of dollars back into the pockets of its shareholders.
In the United States, Alphabet (GOOGL) and Facebook (FB) are some of the Internet companies that have lined up huge share repurchase programs. In February, Alphabet announced that it had added $12.5 billion to its repurchase program that already had $8.6 billion in it, and in December, Facebook boosted its repurchase program with an additional $9.0 billion.
Baidu saw a loss of $49 million in the first quarter—its first quarterly loss since going public in 2005.