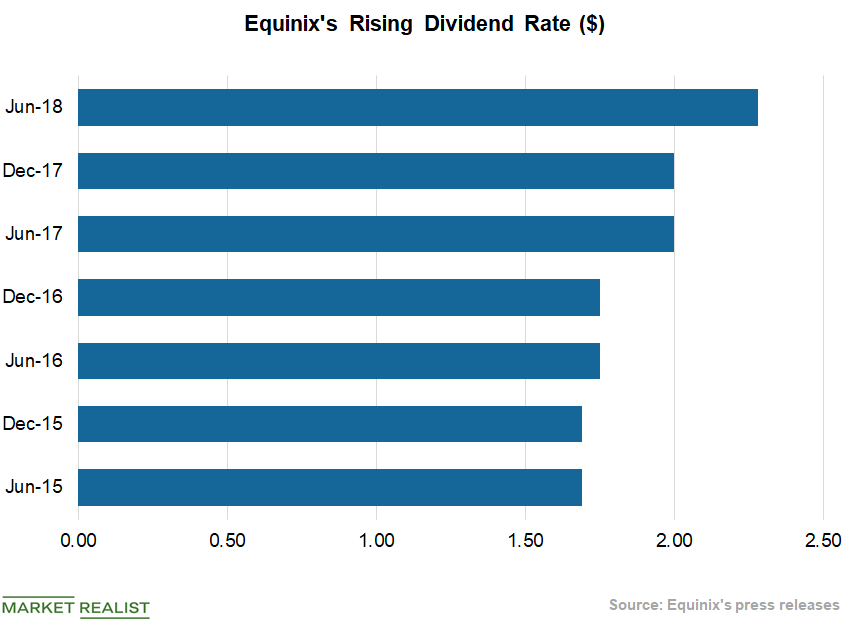 Equinix to Continue Rewarding Shareholders with Dividend Payments
Increasing dividends
Since its conversion to a REIT in January 2015, Equinix (EQIX) has been consistent in paying and increasing its quarterly cash dividends every year. Most recently, it paid a quarterly cash dividend of $2.28 per share for the second quarter, which was 14% higher than its dividend payment in the second quarter of 2017.
At current market prices, the company's dividend yield is 1.9%. In 2015, 2016 and 2017, Equinix paid regular cash dividend per share of $6.76, $7.00 and $8.00, respectively.
For 2018, the company expects to pay $9.12 per share to its shareholders as dividends, representing YoY growth of 14%. Considering its 2018 expectations, the company's dividend payments are expected to mark a CAGR (compound annual growth rate) of 10.5% since 2015.
Article continues below advertisement
Dividend payout
Equinix (EQIX) has maintained its dividend payout ratio (dividend payment as a percentage of adjusted funds flow from operations or AFFO) of ~45% since its conversion into a REIT. However, as the company has been able to generate higher AFFO every year, its dividend payout in dollar terms has increased robustly. The company's annual cash dividend payout reached $612 million in 2017 from $394 million in 2015.
Going forward, the company expects to distribute ~$725 million as dividends in 2018, signifying YoY growth of 18%. The payout ratio for the year is expected to be 45%.
Dividend yield in comparison with peers
Stock price performance
In the year so far, Equinix stock demonstrated its lowest performance when compared with its peers. Equinix has lost 2.2% of its value year-to-date. However, competitors Digital Realty, CoreSite Realty, and CyrusOne have gained 6.0%, 1.0%, and 6.3%, respectively. However, overall the data center REITs have underperformed the tech-heavy NASDAQ Composite Index's return of 12.1%.
Equinix and its peers comprise ~5.6% of the Vanguard Real Estate ETF (VNQ).